You've likely reached this page because we (XEN) have asked you to give us access to some of your marketing accounts.
Depending on what we've requested access to the following steps will help:
1. Google Analytics
https://analytics.google.com/
Please add access for two accounts – with Edit permissions:
2. Google Search Console
(also known as Google Webmaster Tools)
https://www.google.com/webmasters/tools/
Please add – services@xen.com.au – as a Full User
3. Google Tag Manager
https://tagmanager.google.com/
Please add – services@xen.com.au – as an Admin with Publish permissions in your container(s)
4. Google Ads
https://ads.google.com/
This unfortunately is a three step process:
i. Could you please let us know your Google Ads Customer ID (it will up at the top left in Ads)

ii. We'll then request access from our account – you'll receive two emails to add us via two accounts: services@xen.com.au and ads@xen.com.au

iii. Which you can then Approve (from top right menu under cog > Account Settings > Account Access)

5. Google My Business
Google My Business listing: please add services@xen.com.au as a User in your Google My Business account
6. Social Media Profiles
Facebook page: please let us know your Facebook page URL and we will request access from our agency Facebook Manager account.
Instagram company profile: we'll need your Instagram username and password.
Social Media Other (Optional)
These are optional, but where appropriate we'll share Facebook updates through to Twitter and LinkedIn as well
Twitter: we'll need your Twitter username and password
LinkedIn Company Page: Please add craig@xen.com.au as an Admin on your company page
YouTube Channel: please invite services@xen.com.au as a Channel Manager in your YouTube account
Buffer Account
We will set up a free Buffer account to handle social channel scheduling. Please provide the email address you'd like us to use to set up this account (i.e. so you can also have access to the account and so we can hand over in future if needed).
7. Advertising Account Access
Facebook Advertising Access
Please provide us your Facebook Ad Account ID, and we will request access from our agency account.
8. HubSpot
https://app.hubspot.com/login/
The permissions we need depend on whether we are doing a full onboard for your portal, versus a review and optimisation piece (see below for details).
Please add permissions as per the below settings, for each of these XEN team members:
[i] HubSpot Portal Setup and Onboarding Permissions
If we are setting up your Portal as part of HubSpot Ignition onboarding, you will need to give us Super Admin privileges: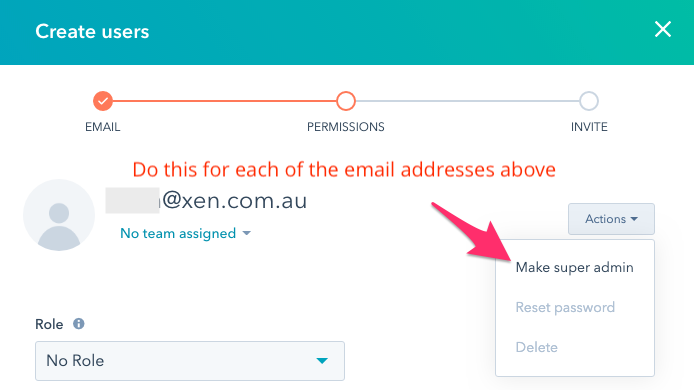 [ii] HubSpot Portal Review and Optimisation Permissions
If your portal is already setup and we are doing an audit, training or optimisation for you, then the following permissions are requested:
HubSpot Contact Permissions
For HubSpot Marketing we basically need access to everything
For Deals we usually view everything, however if you have particularly sensitive deals that you don't want us to see, you can change our Access to Owned Only:
This means we can still create/edit test Deals in order to optimise your processes, but can't see any of your existing deals
Basically everything in Service
We don't usually need this, however, if we are working on your HubDb tables we will need the following: