The XEN 5-Step Website Design Process
What to expect working with us
We've been building websites for more than 10 years now - and in that time we've learnt a few key lessons on how to make a new website development successful.
Below is a quick overview of the process we use when working with our clients - to ensure they are delivered a HubSpot website that is functional, beautiful and focussed on their business goals.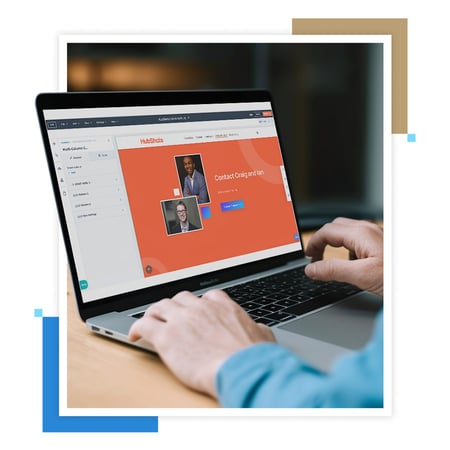 Our process has five stages:
At the forefront of our process is gaining a comprehensive understanding of your audience, business objectives, and key products and services. We delve into what sets your company apart and the advantages your customers receive from partnering with you.
Next, we create a thorough briefing document that we ask you to review for accuracy. This document will also outline the pages that we will design and the information that will be featured on each page.
Typically, this stage takes us one to two weeks to complete.
Next, we ask you to send us all of the content you have available for us to use on your new website. This includes things like logo files, brand guides, images, videos, copy, contact details, social media profiles and the like.

We set up a folder for you to upload all of this information - this makes it easy for you to send large files (like images and video) and means we keep all of the information in one place.

If you don't have all of the content ready or if you don't have some, don't worry, we can design bespoke imagery and we can help you write some copy if needed.
Based on the research and the content, we then start to work on the design of your new website. We start with the home page because this is the key page on your website and it informs the design of the other pages. We send you the design to review and comment on and then we make changes to the design based on your feedback. We usually get it pretty well right the first or second go but we give you three revision rounds of each page to make sure.
Once you've signed off on the home page, we mock up designs for any other key pages.
Next, we bring the approved designs to life. If you already have a website, we keep that live while we are working on the redesigned site. We work on a staging site which can't be seen by Google or customers. It can only be seen by us and you when we share it.
We add the content we gathered from you, and we can copy content from your old website too. We make sure your new website looks great on all devices - desktop, tablet and mobile and works on different browsers.
This takes around 2-4 weeks depending on how many pages we need to develop and how much content we need to add to the website.
After the site build is complete, we meticulously test every nook and cranny to ensure seamless functionality on all devices. We leave no stone unturned in our quest to eliminate any typos or broken links, and to optimize your site for Google's algorithms.
Once everything is up to snuff and your domain is connected to HubSpot, we make your grand debut to the world by seamlessly transferring the new design to your domain. We work on your schedule, so you can choose a time that suits your business needs - whether that's late evening or on a weekend. And the best part? Your site will be live and shining in just a few hours (assuming your domain is already connected to HubSpot).
Here's a video overview of the process:
Deliverables
Here's the key deliverables for your new site:
CLEAN Theme website developed and implemented in HubSpot CMS
Fully integrated with HubSpot Sales and Marketing
Google Tag Manager and Google Analytics implemented
Project Scope
Inclusions and Exclusions
We highly value our customer relationships and we do our best to make sure you're happy with the work we do. We find it helps to make sure we are both on the same page from the start about what's included and what's not to avoid any confusion later on.
What's included:
Content: We rely on you to provide us with content for your site but we can design and build images and videos as needed.
Design: The number of pages included in the design is based on the typical requirements of a mid-level site. As a guide, a typical corporate website has around 15 different page layouts.
Revisions: We allow for up to three revisions per page but we're pretty flexible within reason.
Development: The site will be developed on HubSpot and will look good on all devices - desktop, tablet, and mobile.
Forms: We will create contact and/or quote forms.
Content population: We will populate content on the site, including product pages, services pages, blog posts, general pages, etc. As a guide, we usually anticipate building out approximately 30-50 pages in a typical corporate website.
Quality Assurance Testing: We have testing and quality assurance processes, and will have our in-house QA team vet all websites we deploy.
Analytics & Reporting Setup: We will make sure Google indexes your website and will set up Google Analytics, Google Tag Manager and Google Search Console as required.
What's excluded:
Personalised Photography & Video: We can design new imagery and videos, but we don't take on-site photos or videos of your business.
Copywriting: We can assist with key messages for pages but in-depth website copywriting (eg sales copywriting) is not included.
Email Marketing setup and implementation: If you have specific email follow-up processes (eg nurture workflows, abandoned cart automation and other marketing processes), you will need to advise specifics in order for us to integrate them into the site. If required, we can work with you to implement marketing processes as an additional service.
Ongoing site updates: We'd love to work closely with you in an ongoing arrangement, to help with website updates, marketing strategy and campaigns. If interested, these services can be discussed separately.
CLEAN theme: This will need to be purchased by you from the HubSpot Marketplace.
Pricing
The total cost will depend on the number of pages, design and other implementation requirements but we typically charge $159/hour. You will receive an estimate of how long the website project will take to complete before the work commences.
View our pricing page for costing guidance.
Join these companies getting the most out of their HubSpot Portals