Review and Optimise Your HubSpot Portal
A complete review of your HubSpot portal to highlight issues, recommend fixes and streamline your campaigns.
The HubSpot HealthCheck is ideal for mid-large companies who already have HubSpot in place and have been using it for more than 6 months.
Note: This is not designed for new installs (we have a separate HubSpot Ignition offering for new portals).
Perfect for regular reviews of your portal eg Quarterly or Annually.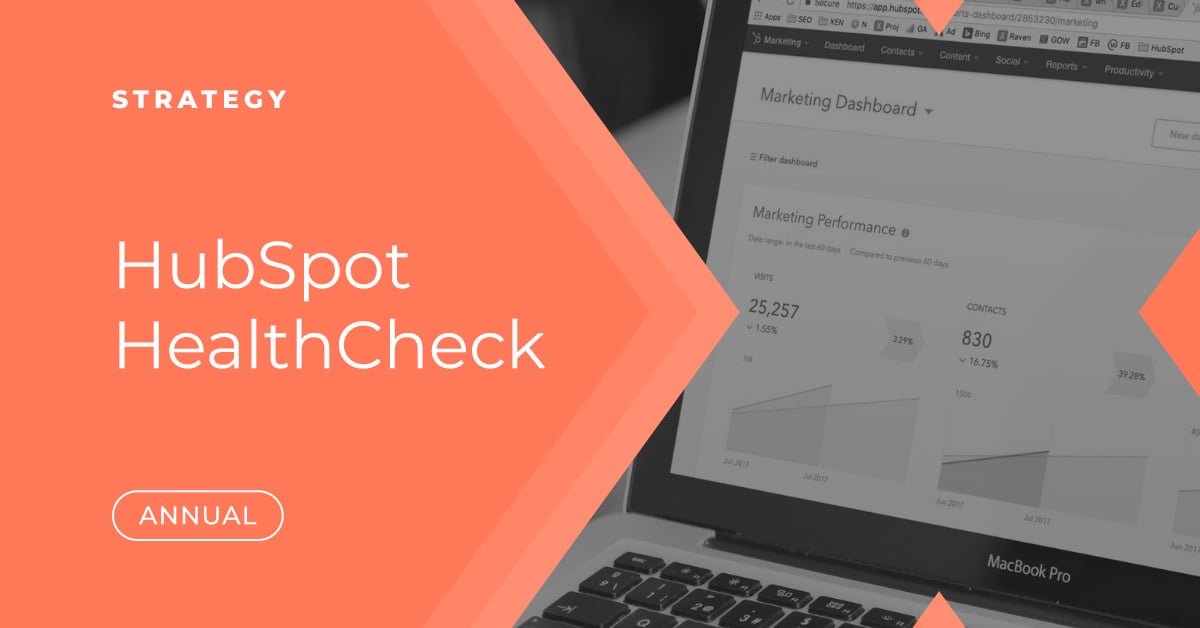 Why Organise a HubSpot Review?
If you've been using HubSpot for a while chances are your portal has gotten a little complicated with contacts, emails, lists, workflows, pages, blog posts and numerous other areas.
We review your portal and optimise HubSpot marketing items including contacts, reports, lists, workflows and emails.
In the following video we walk through the details of the process:
Who is the HubSpot HealthCheck ideal for?
The HubSpot HealthCheck is ideal for:
Mid-large companies
Who have been using HubSpot for more than 6 months
Who feel that they are not using HubSpot to its full potential
What's Included in the HubSpot HealthCheck?
The HealthCheck includes 2 hours of one-to-one consulting via zoom with one of XEN's Certified HubSpot Consultants, where they review your HubSpot Portal, grade each of the items in the HealthCheck checklist, and provide recommendations for improvement. They walk you through the findings and answer any questions you have.
2 hours of one-to-one consulting via zoom with one of XEN's HubSpot Certified Consultants
A full review of your HubSpot Marketing Hub portal
Grades against each area of the items in the HealthCheck checklist
Recommendations for improvement
A walkthrough of the findings and answers to any questions you may have
An actionable checklist to help you start optimising your HubSpot portal
HubSpot Areas Reviewed
Review all naming conventions

Lists, emails, forms, workflows, campaigns, files, pages
Recommend naming convention improvements

Review all settings and options including:

Report settings
Contact settings
Content settings
Social settings
Integration settings
Properties and default
Email settings

Check Lists and Filters
Check Campaigns
Review Active Lists for typical database hygiene activities including:

Cold contacts (low engagement, disinterested, legacy customers)
Low contact, high value contacts

Review Workflows to:

Highlight potential problems (eg workflows with risky entry and re-enrollment criteria)
Ensure consistency of naming
Check internal notification send lists

Review Lead Scoring rules
Review Emails to:

Highlight old/legacy emails used in workflow automations
Freshen email design templates
Optimise internal notification emails

Review Forms to:

Highlight progressive field functionality where appropriate

Review Pop-Up Forms:

Optimise page targeting
Recommend splitting into separate Pop-Up Form offers where appropriate

Review CTAs:

Check all CTAs and Smart CTAs for accuracy and performance

Review Page Performance:

Optimise web pages and landing pages for optimal results in Google

Review Content Strategy terms
Review Competitor Tracking
Review Reporting Dashboards
What's NOT included in the HubSpot HealthCheck?
The HealthCheck does not include implementation or changes to your portal - it is a review and set of recommendations only.
If you require help implementing the HubSpot recommendations, this can be organised separately.
How Much Does the HubSpot HealthCheck Cost?
Please view our Pricing page for details on the costs for the HubSpot HealthCheck.
Cost depends on your portal size, number of assets (forms, workflows, campaigns, pages, etc).
What are the Benefits of the HubSpot HealthCheck?
You've been actively using HubSpot for a while now - and things can get overwhelming.
You made a significant investment by choosing HubSpot, make sure your portal is streamlined and optimised.
Our HubSpot HealthCheck service has helped clients to:
Utilise their HubSpot portal more effectively
Highlight issues and assign priority items to fix
Reduce errors caused by a lack of processes
Optimise workflows and automation to save time and money
Achieve better engagement with contacts
Improve reporting processes and visibility