If You Are A Business, Please Stop Doing This On Instagram
Published: Monday 09 November 2015 | Last updated: Tuesday 04 September 2018
Instagram has an engagement level 15 times that produced by Facebook and a huge 40 times that produced by Twitter. Engagement is what makes social media campaigns tick, and with Instagram's 200 million active users (out of 300 million existing profiles) per month, there's no doubt that Instagram is a good platform for business exposure.
What Not To Do
#1 Not learning Instagram the personal way
You have to learn the ropes before you can become an expert at the business side of Instagram. Create and - most importantly - maintain a personal Instagram account. This can be tricky if you don't know what you want to share at first. However, a good way to learn is simply by following other accounts until you know your way around.
#2 Posting bad quality photos
Since Instagram is a photo sharing site, a bad quality photo can be a deal breaker. While Instagram is in fact a mobile app, that doesn't mean you should be using your phone's camera all the time. If your business has an Instagram account, consider investing in a good camera specifically for brand-related Instagram content. Ben and Jerry's Instagram account is an example of a well-managed account with excellent quality and eye catching photos:
In comparison, here's an example of a bad quality brand photo:
If your brand is at stake, use a good camera. If you don't have a good camera available, learn some mobile photography tricks or install a good photo editing app.
#3 Too much branding
Exposing your brand's products to your followers is normal, in fact it's one of the main purposes of having an Instagram account. Then again, a daily reminder of the brand logo can sometimes be too much for your followers. To avoid over-marketing, vary the posts from your actual products themselves to some behind the scenes shots of your business.
Here's a screenshot of what might be considered too much branding from Ben and Jerry's Instagram account (although they do get some points for high quality photos):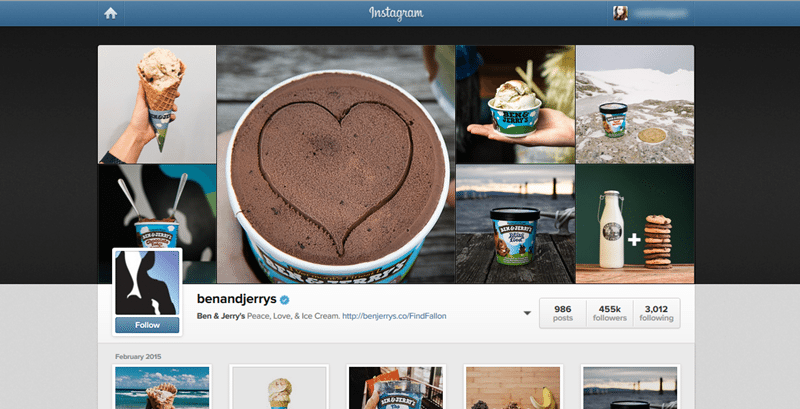 The official Starbucks Coffee account on the other hand tries as much as possible to produce a great variety of photos after various comments about too much branding. Even though these photos don't specifically reference Starbucks, they are still of interest to followers who don't want to see brands all over their Instagram feed. Here's a screenshot: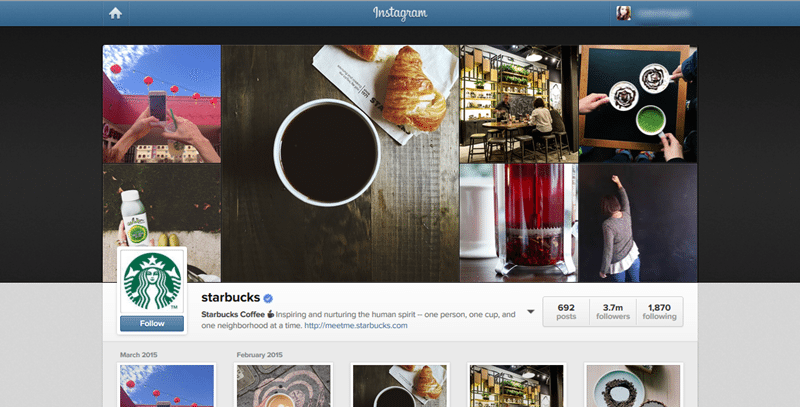 #4 Following back
Following back every follower is a bad move on Instagram. Instead, follow only relevant brands and celebrities to stay in the "cool circle" and retain a level of influence on the social sharing platform. Although it might seem a bit haughty, keeping your "following" circle low may benefit you in the end. For example, while Facebook's official Instagram account harbours 303,000 followers, the site only follows 24 accounts in return.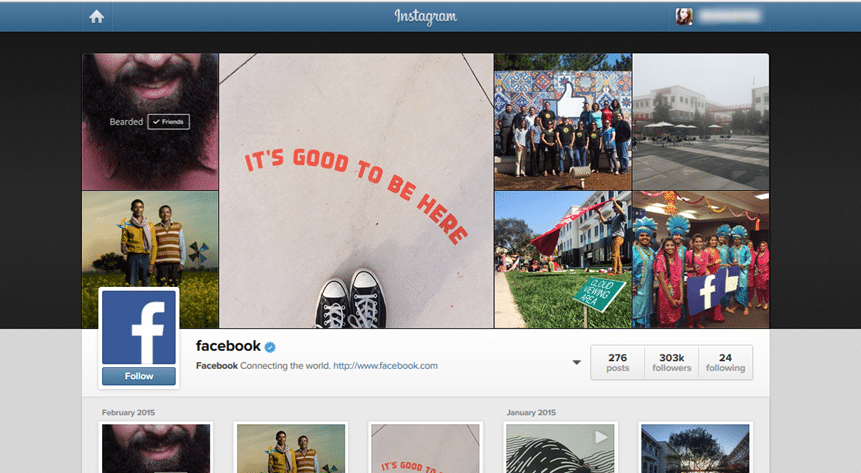 Some brands over-use hashtags and some brands don't use them at all. Generally, one to ten relevant hashtags on a post is accepted. This number allows a lot of wiggle room for searchability purposes. Any more than ten hastags can be annoying, especially if you've also filled up your caption section with text.
Choose one main hashtag that you will be using on all of your posts (i.e. the name of your brand - #xen or #xensystems), then add one or two more to further describe the post. Hashtags are often used by people to search for relevant content and products on Instagram, however, keep in mind Instagram is predominantly a photo-based social sharing platform. In addition to this, if your post is all about offering a certain product or service, make sure to add to the hashtag a localising suffix like #marketingUK or #hyundaiAU.
#6 Posting unrelated images
Some businesses may post photos that are completely irrelevant to their brand in an attempt to get more followers or more likes. In reality, this can be damaging for your brand; it can confuse followers and make your other content irrelevant and harder to maintain. If you do happen to post something that doesn't really help your business in any way or doesn't add to the overall quality of the photos on your Instagram account, there is an option to delete (that is if your keen followers haven't taken a screenshot yet).
#7 Bad scheduling plans
Businesses and brands can't dictate posting schedules on a whim. Posting regularly and at a time when the majority of your followers will see the post is advised. Both over-posting and under-posting can lead to negative results. Post daily updates, making sure they aren't rushed or posted just for the sake of posting.
#8 Not riding the trends
From time to time, trends will pop up across social plaforms. One all time favourite trend that never fails to gain attention is #throwbackthursday or #tbt, which occurs every Thursday. Many successful businesses take part in this hashtag trend every week to connect with followers on a more personal level. Similar trends tend to appear during special occasions like Christmas and other holidays.
For example, this Intel post paid homage to Thomas Edison's birthday:
#9 Advertising on other accounts
From time to time, we see online shops and brands forcing their product information on followers in the comment sections of famous celebrities or other well-known brands. If you don't realise this already, there's very little chance that people are actually reading your comment and even less chance people are going to your account from that comment. Often, celebrities will do their own crackdown on spam commenters and your account will be blocked.
#10 Staying on Instagram
Although Instagram is certainly growing, it is still advantageous to look at cross-platform reach. Since Instagram allows you to connect to your other social media accounts like Facebook, Tumblr, Flickr and Twitter, you can hit quite a few birds with one stone. So don't just keep your awesome photos on your Instagram feed; share them across platforms for more followers and more brand recognition.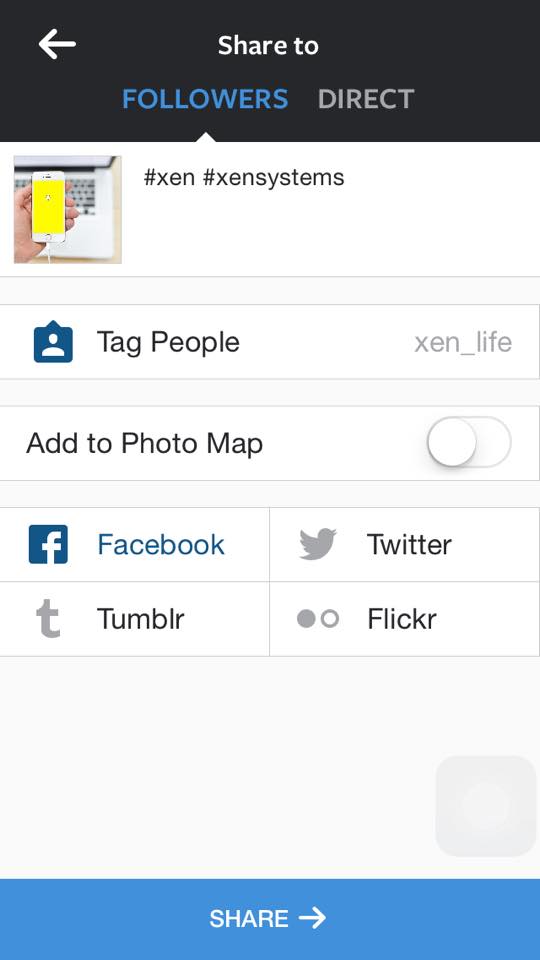 #11 Not embedding your content
Instagram's embedding system is very stable and reliable. If you don't utilise this feature, you're missing out on an opportunity to lead more readers to your Instagram account. Embedding is also a helpful substitute to uploading the same images again for use in blog posts, for example.
#12 Begging for and buying followers
This is just common social media sense. Don't beg for followers or offer "like for a like". Focus on building your followers through good posts and good branding rather than buying fake followers or begging for followbacks. Maintaining your brand's image is important, and begging for followers doesn't give a good impression. In fact, Instagram is very serious about cracking down on fake followers and fake accounts, so stay away from this practice. After all, your followers should be engaging with your brand and not just a number to decorate your profile.
#13 Allowing rude comments
Some social media managers who are dealing with millions of followers have no choice but to let rude comments go; there's too many comments to filter through! However, posts with few commenters and rude bashers may need to be removed or redirected. If you think it's possible to steer them away from commenting innapropriate or unfair things, have a go. In most cases, however, the best practice to get rid of rude comments is blocking and reporting.
In Conclusion
Although Instagram does not yet offer live links in captions or comments that may lead to your blog or website posts (only available on profile pages and now in ads), it can't be denied that this particular social media platform is one of the most powerful and fastest growing tools for brand marketing. Keep these 13 "what not to do" tips in mind when posting on your Instagram account and you could see and improvement in ROI and follower engagement.
Published: Monday 09 November 2015 | Last updated: Tuesday 04 September 2018