An Introduction to Account Based Marketing (ABM)
Published: Sunday 20 December 2015 | Last updated: Tuesday 04 September 2018
Over the course of the past decade we've seen many changes take place in the world of marketing, both 'real world' and digital. SEO has evolved into a discipline that takes a much more holistic approach than it has in the past and it can be said that there's been a blurring of boundaries when it comes to PR, digital marketing, and traditional advertising.
For the marketing manager, all of this means that it's vital to stay on top of the latest news and happenings within the industry. This is not a particularly simple task, especially since in more recent years technology has moved at a blistering pace.
Now, we have to work with data in order to really gain insight into customer behaviour. It's also necessary to understand and work with social media and all manner of other cross-channel platforms. Whilst we're doing all of this, we're also required to keep up with the latest innovations taking place within the industry in order to stay on top of the game.
Don't Dismiss Buzzwords
Much of the time I hear marketers bemoaning the fact that often, new disciplines and ideas that come along are nothing more than repackaged buzzwords. Big data being a case in point – for a while nobody could really define what it actually meant. However, for the most part, these buzzwords do mask new and exciting ways of doing things and marketing managers should never dismiss them out of hand.
For example, take the term growth hacking. I've read that it's nothing more than a term that's been adapted to suit a whim more than once. But growth hacking has delivered proven and exciting results for those who innovated it in the first instance and those that continue to use it. A very good example of growth hacking at work is of course Dropbox, which according to Kissmetrics,
"hacked growth to become a $4 billion company."
Impressive? Of course, and a case in point that any 'new' term should never be dismissed out of hand.
Focus on Inbound
Social media in particular has meant that we've seen a larger focus on inbound marketing in recent years than ever before. The way that consumers interact with brands has changed indelibly and now, the power rests in the hands of the customer.
Whilst this is more true of the B2C market than B2B, it's increasingly the case that the latter are becoming increasingly wise as to what they can expect from their suppliers.
And this means that they tend to be more demanding. Consumers and businesses alike are savvy to the ways of advertising and are sophisticated when it comes to the online experience. This means that marketers – both consumer and B2B – are constantly looking for more effective means to deliver a great customer experience and boost trust and loyalty to their brands.
Recently, we've seen a renewed focus on account based marketing (ABM), which looks at marketing at the individual account level, rather than focusing on leads and sales. This means that rather than attempting to guide customers down through the traditional sales funnel, the focus is centred on understanding who the customer is and targeting key accounts that will result in sales.
This is a form of personalisation, as once you've identified your customers, only then do you send targeted advertising designed to reach the customer through their preferred channels, with offers that are relevant to them.
2016 – The Year of ABM?
As mentioned previously, ABM could be seen as something of a buzzword due to for the most part a renewed interest in it. A quick look at Google Trends reveals that in 2105 we've seen ABM entered as a search term when it's barely registered before.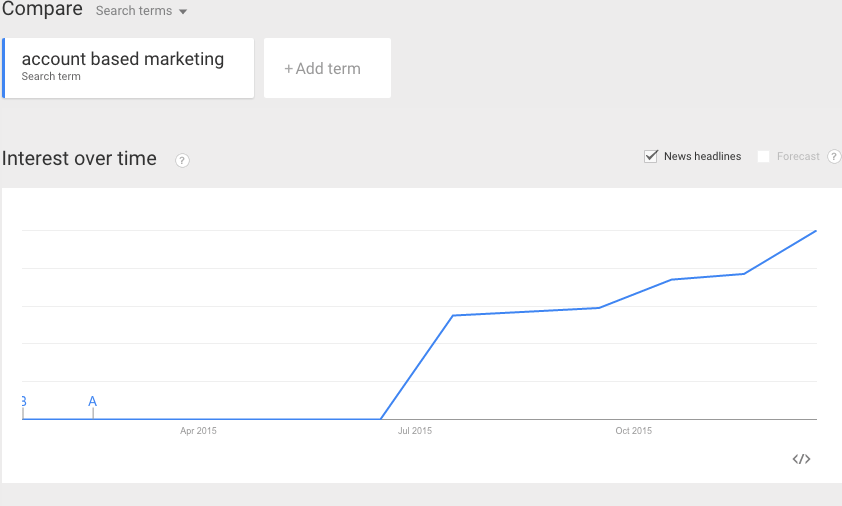 Whilst this shows a renewed interest in ABM, the discipline has actually been around since around the mid-1990s, at least as "a demonstration of the trend away from mass marketing towards more targeted approaches."
According to Wikipedia, ABM can help businesses to:
"Increase account relevance"
"Engage earlier and higher with deals"
"Align marketing activity with account strategies"
"Get the best out of marketing"
"Inspire customers with compelling content"
ABM is more concerned with selling to customers on a one-to-one basis, or targeting the individual group, rather than a mass group.
B2B Marketing
ABM is currently best applied in B2B marketing and a recent report found that "92% of companies recognise (sic) the value in ABM, going as far as to call it a B2B marketing must have."
However, the study also found that a mere 20% of those B2B companies interested in ABM had programs in place for more than a year. Further to this, just 60% were planning to invest in the necessary technology to help leverage ABM.
"B2B marketers are realising that marketing to large quantities of individuals doesn't result in quality sales opportunities," said Peter Isaacson, chief marketing officer at Demandbase.
"ABM is fast becoming the B2B strategy of choice because it truly aligns sales and marketing while focusing their teams on the highest value accounts. I expect adoption to grow rapidly as companies that have made this switch have seen tremendous results by focusing their efforts on attracting, engaging, converting and measuring the accounts that are most likely to buy."
Further findings in the study included:
A strong alignment with sales, with 34% of respondents saying that sales and marketing were tightly aligned
52% of companies had ABM pilot programs in place
74% of marketers worked closely with sales to define plans and goals
47% of respondents felt that a skills gap existed when it came to succeeding at ABM
According to Megan Heuer, ABM represents an important shift in how B2B marketers go about "delivering their revenue goals".
"What makes ABM so attractive right now is the way it combines insights for strategy and technology for execution. Marketing teams who understand ABM are in a powerful position to better align to what sales needs, and to make smart choices about the right actions to take and the right time to take them to grow high-potential accounts. What we'll see in the year ahead is whether marketers acquire the skills and resources they need to fully realise the promise of ABM."
Defining ABM
ABM is not as broad a discipline as inbound marketing and focuses on key accounts which are identified and selected by sales and marketing teams. ACM then focuses on employing a personalised experience for each customer account. The marketing message is based on the needs of the targeted account, which tend to be high-value accounts that will generate more revenue.
ABM looks at targeting a specific buyer or set of buyers in one industry. It works by identifying which customers are the most valuable to the business. Once the market and customer has been identified, it's then a case of optimising a marketing campaign in order to create personalised sales messages that really resonate with the customer.
Benefits of ABM
So what benefits can account based marketing afford B2B marketers? According to Marketo, the top five include:
Clear ROI – a 2014 study found that "ABM delivers the highest Return on Investment of any B2B marketing strategy or tactic."
Reduced waste of resources – due to the targeted nature of ABM marketers can more efficiently focus resources and optimise target accounts.
Personalisation and optimisation – ABM allows B2B marketing campaigns to resonate more effectively with the audience due to its personalised and optimised nature.
Tracking and measurement – as marketers are working with a more focused and targeted group, it's easier to track and measure metrics and analytics.
Alignment with sales is easier – sales and marketing align when using ABM as it requires marketers to think more like a sales person insomuch as they're required to consider how they can effectively target accounts and gain the most revenue from them. ABM requires sales and marketing to work closely together and is perhaps the most effective way in which sales and marketing can be aligned.
ABM – if it's to be successful – should deliver high conversion rates due to its targeted nature. This means that marketers have to consider how they can personalise the experience for the buyer and how they can further use retargeting in order to gain the most from each account.
This means that it's necessary for marketers to create various means of ensuring that the most is made of each account.
This could include personalised landing pages for each account which include:
Custom copy/images
Deep personalisation – e.g. having the name of the account/key contact on the landing page
Targeted and personalised offers
Tracking its Effectiveness
It will of course be necessary to track the effectiveness of any ABM campaign using analytics. This will then allow the campaigns to be tweaked in order to more effectively create further campaigns and to remarket to the target accounts.
Using analytics, marketers can track sales and market to subsegments of accounts, sending out customised and personalised messages to target accounts. However, these don't necessarily have to be individual accounts, it's possible to meet the needs of a range of buyer personas once ABM is in place.
Like most business processes, in order to use ABM effectively, it's necessary to plan and to understand what the goals of the business are. Since ABM is reasonably specific, it's safe to say that the first steps will be in successfully aligning sales and marketing. Following this, it will also be necessary to fully understand the customer pain points and how these can be effectively addressed.
Technology can help to automate and scale ABM processes, but it's always going to be necessary to plan in order to identify key target accounts, market to them and measure the accounts in order to further tweak and remarket.
Identifying ABM Prospects
But how do you identify those accounts in the first instance? Many marketers will have used buyer personas in the past and it's true that it seems like the most logical first step when it comes to ABM. In B2B marketing it's easier to identify those accounts that are likely to be high value when compared with the consumer market. So the first steps will be in coming up with a strategy to identify high value accounts. This can be done using analytics (predictive) or it can be done by simply working more closely with sales.
It's likely that as a marketer, you will need:
A list of accounts from sales
Targeted segments
A list of customers
A list of customers who are likely to buy soon and can be targeted almost immediately
Once you've identified and planned target accounts, then you can create campaigns based on landing pages and advertising. It's vital once you begin your campaign that you begin to measure results immediately so that you can see what's working and adjust accordingly.
Depending on your industry and the size of the business that you're applying ABM to, you may want to start small. Stakeholders may be resistant to new approaches so you may want to begin with a small set of high value accounts that sales and marketing have identified in order to prove ROI in the first instance. Once you have demonstrated that ABM can be a success in the initial stages, then it's a simple matter to scale and ensure that it can be applied to further accounts across the business.
ABM is something that many B2B businesses are taking a huge interest in this year and going into 2016. It relies on personalisation which we know works well in both the consumer and B2B markets. Whilst many companies appear to understand its worth, adoption is currently slow, so if you're a B2B marketer then now is the time to jump on the ABM bandwagon and identify those high value customers who will boost sales.
In this multi-channel digital environment that we find ourselves in today, it's necessary to find new and innovative ways to reach customers, no matter what industry we're in. ABM offers an opportunity to gain the most profit from each account that's identified as being valuable in both sales and marketing.
Published: Sunday 20 December 2015 | Last updated: Tuesday 04 September 2018