Episode 273: Reducing Friction, Marketing Contact Recommendations, Custom Quote Templates and Deal Unenrollment Tips, Plus ROI in Life
By XEN Systems
Published: Friday 18 February 2022 | Last updated: Friday 18 February 2022
HubShots Episode 273: Reducing Friction, Marketing Contact recommendations, Custom Quote templates and Deal Unenrollment tips, plus ROI in life
This edition we dive into:
Reducing friction
The benefits of Marketing Contacts, plus 3 key recommendations for managing marketing contacts
Custom Quote Templates beta
More on Surveys versus Forms
Unenrollment criteria on Deal workflows
ROI in life
Attribution issues with cookie consent
Risk Management versus Efficiency
Systems and processes quote
You can listen to this episode of the show on YouTube here.
Did a colleague forward this episode to you? Sign up here to get yours every Friday.
Please forward this on to your work colleagues.
Recorded: Wednesday 16 February 2022 | Published: Friday 18 February 2022
---
🌱 Shot 1: Growth Thought of the Week
Catch us on YouTube
You can listen to the episodes (ie audio only) on the HubShots YouTube channel here.
This is a better experience than listening on Soundcloud, due to Soundcloud's change to prompt you to create an account.
Reducing friction
We were talking about 2 experiences Ian had recently:
The good - ordered some equipment from Apple and got it delivered within a 3 hour window for $15 extra. It actually arrived in just over an hour! As it was for work this was a worthwhile investment instead of waiting 2 days. This was a massive reduction in friction in the buying process.
The not so good - ordering coffee from a local roaster and being charged delivery and it potentially taking up to 11 days! All through the process I was happy and got this: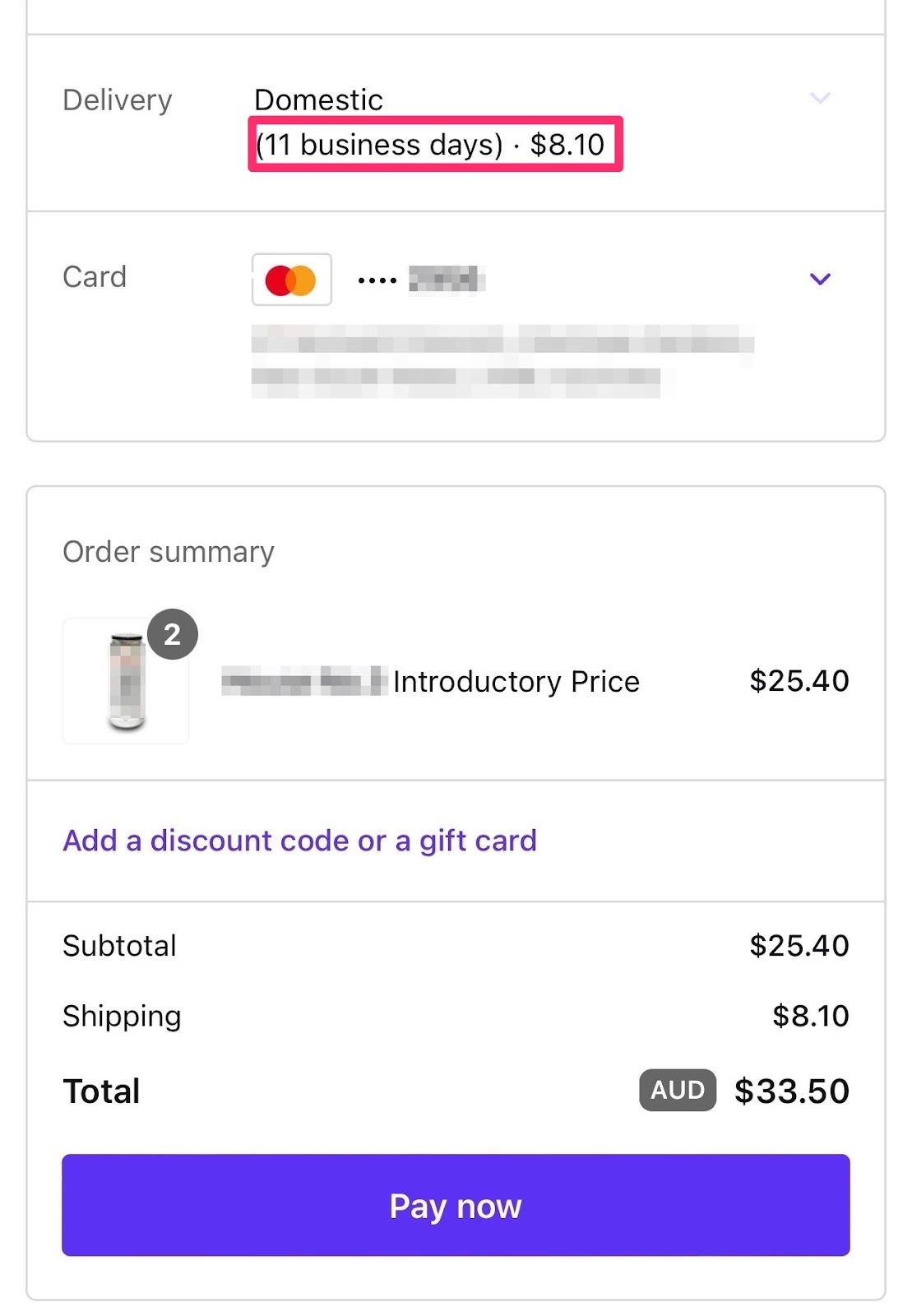 Thing to note here is shipping times were a blocker to the sale here and made me think twice and stop the order and head over to a local cafe that I know stocked their coffee.
Question: Do you ever ask why people don't buy from you?
---
✨ Shot 2: Quick Shots of the Week
Here's a few quick items of interest we noticed:
Marketing Hub Pro and above now has Embedded Attribution Reporting within Campaigns
Page meta descriptions now visible in SEO Recommendations
The App Marketplace just surpassed 1,000 integrations!
CMS and Marketing Hub Enterprise now have User and Team Partitioning is now available for HubDB Tables
---
🚀 Shot 3: HubSpot Marketing Feature of the Week
The Benefits of Marketing Contacts
We've discussed HubSpot's marketing contacts before on the show. If you're not familiar with the concept, a quick refresher:
You can mark a contact as either 'marketing' or 'non-marketing' in HubSpot
You can have a million non-marketing contacts in your portal and not be charged any extra
You are only charged for 'marketing' contacts
You will need to mark a contact as 'marketing' in order to do things including:

Emailing them with marketing emails (eg in workflows, or as part of campaigns)
Adding them to audiences that are synced to ad platforms (Google, FB, LI)
This last part around functionality can be a life saver at times.
We recently had an import of contacts into a portal, but found that a particular workflow triggered based on some contact properties being known. The import of these contacts triggered the workflow… which potentially could have sent to tens of thousands of contacts (from the import).
However, because we didn't set the contacts to be marketing contacts during the import, the emails didn't sent to them. Phew!
So here's the key learnings:
[1] Never set contacts as Marketing contacts when importing
Instead import contacts, and then manually set them as marketing contacts later, when you can assess the impact this will have.
[2] Be Careful Setting Contacts as Marketing Contacts in Workflows
Workflow actions allow you to set contacts as marketing contacts (and back to non-marketing as well). This can be handy in some scenarios (eg a particular set of engagement criteria might qualify them for a nurture sequence), but can also be dangerous is not well thought out (eg if it triggered based on an import!)
[3] Be careful who is allowed to set as marketing contacts
It's also important to manage who has permissions to manually mark contacts as marketing.
This is controlled from the Account permissions in User settings: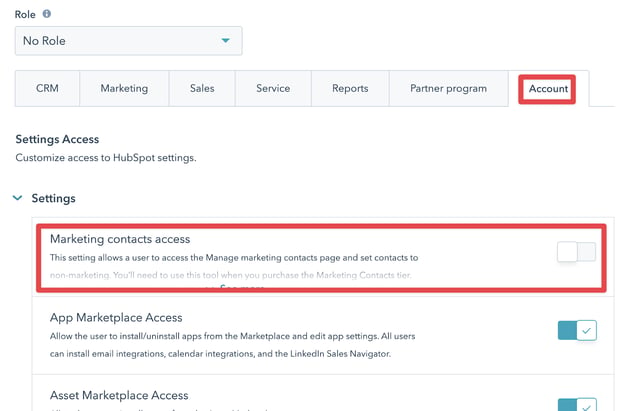 We protect this quite closely, and only enable for users who fully understand the impact of setting contacts as marketing contacts.
The last thing you want is for someone to accidentally set 10s of thousands of contacts to be marketing contacts simply because they thought it would be a good idea to sync them as a remarketing list up to Facebook…
---
💰 Shot 4: HubSpot Sales Feature of the Week
Custom Quote Templates (Sales Pro)
HubSpot has been rolling out improvements to the Custom Quote template functionality over the past few months.
If you have a Sales Pro license this is available as part of a public beta.
The summary is that quote templates use a similar 'experience' to the drag and drop email builder and page builder editor. Although, funnily enough the quote editor isn't actually drag and drop - you can't move the modules around. But you can edit them, the same way you do in the email and page editors: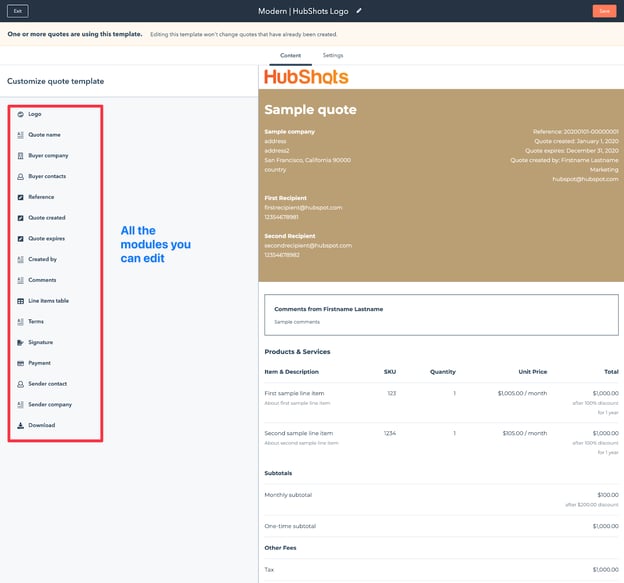 A few of the simple changes you can easily make:
Changing logos (ie create separate templates for each of your brands)
Editing the Line items layout (eg we usually don't have SKUs for products, removing that is much nicer)
You can change the domain and global theme style settings from the Settings tab: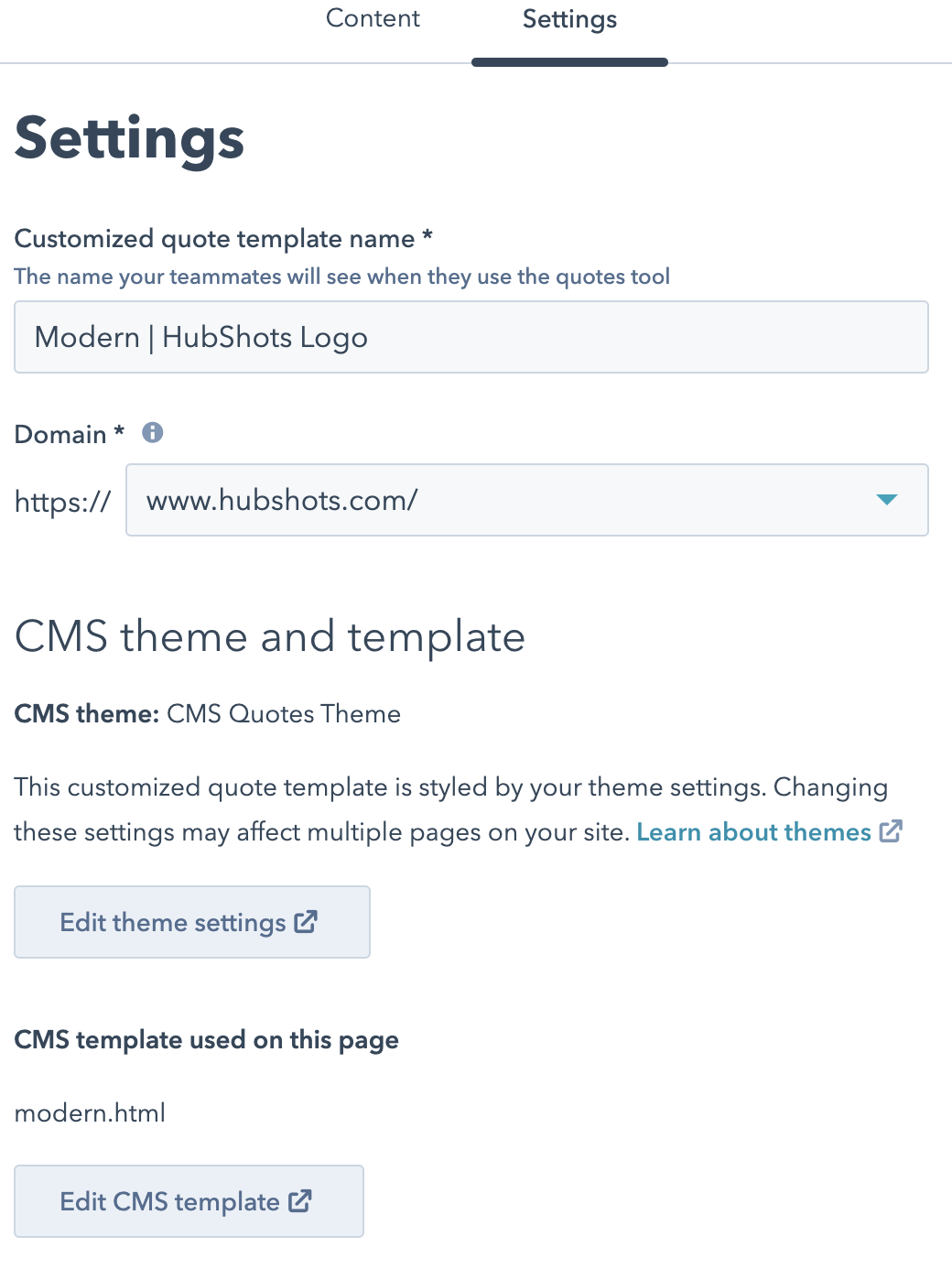 ---
👨‍🔧 Shot 5: HubSpot Service Feature of the Week
F
ollow up on Forms versus Surveys
From the previous episode we realized that there could be some drawbacks here if you:
Have the ability to use progressive form fields
Use conditional form fields
Plus the ability to remarket as HubSpot surveys currently run on a HubSpot domain. This I assume will change in the future.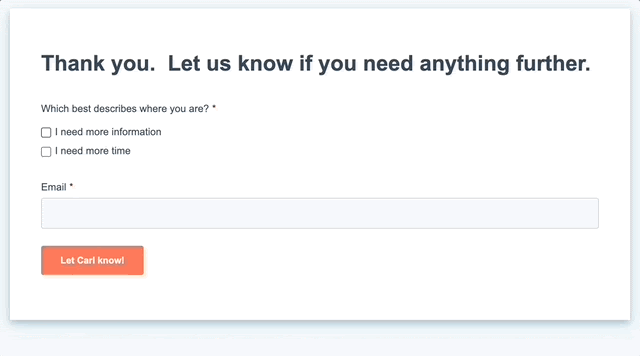 Now why would you use the survey?
Ability to launch it quickly
You want to use the survey reporting
Have the option to include different kinds of question types, like rating etc. See our example, you can also complete it!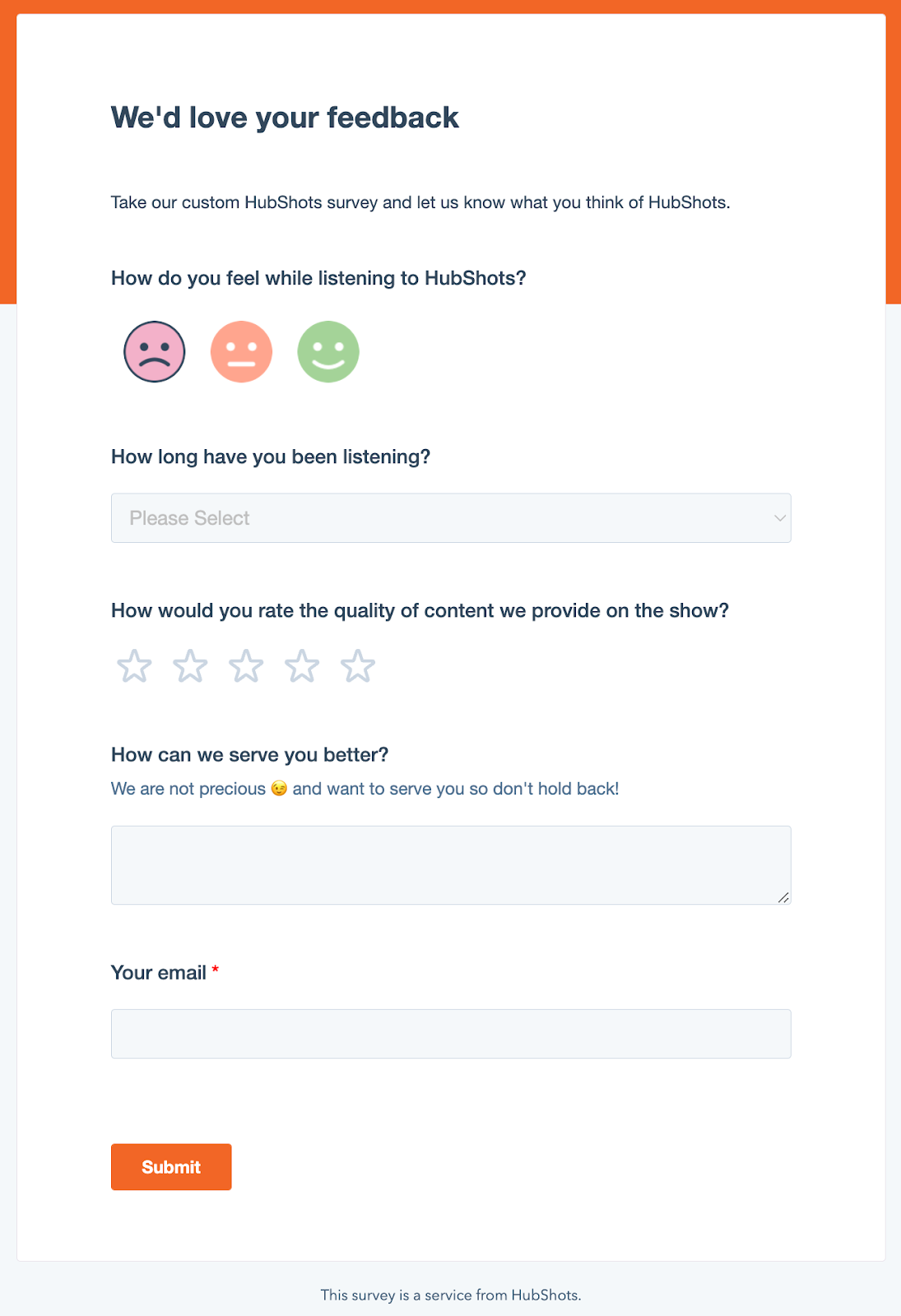 ---
🔧 Shot 6: HubSpot Workflow Feature of the Week
Unenrollment Criteria on Deal Workflows
You are likely familiar with unenrollment on contact workflows (or perhaps you use Goals instead).
However, you may not know that Deal Workflows have a similar option, and can apply to not only the Deal object, but to associated objects as well.
Here's an example. Let's say you have a Deal that kicks off some onboarding tasks for a new opportunity.
You could set up a Deal workflow that sends internal notifications or creates tasks when a Deal is marked as a particular stage (eg Qualified). That would be the Trigger criteria.
But perhaps you don't want to do this if they already have another deal. You could make this part of the entry criteria, or you could make it part of Unenrollment criteria on the workflow eg:

In our portal we give all new deals a notional value of $1 until we've discussed pricing with them. So we can use the recent deal amount property to check whether this contact has had any fully qualified deals recently.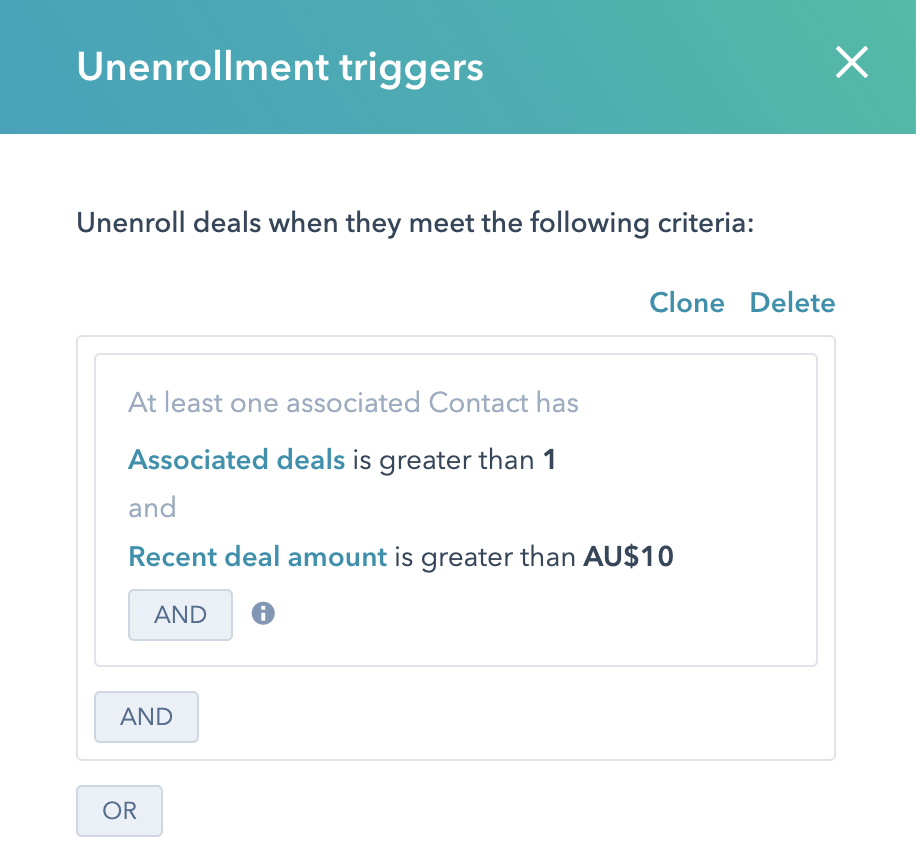 You can check for associated deal properties including: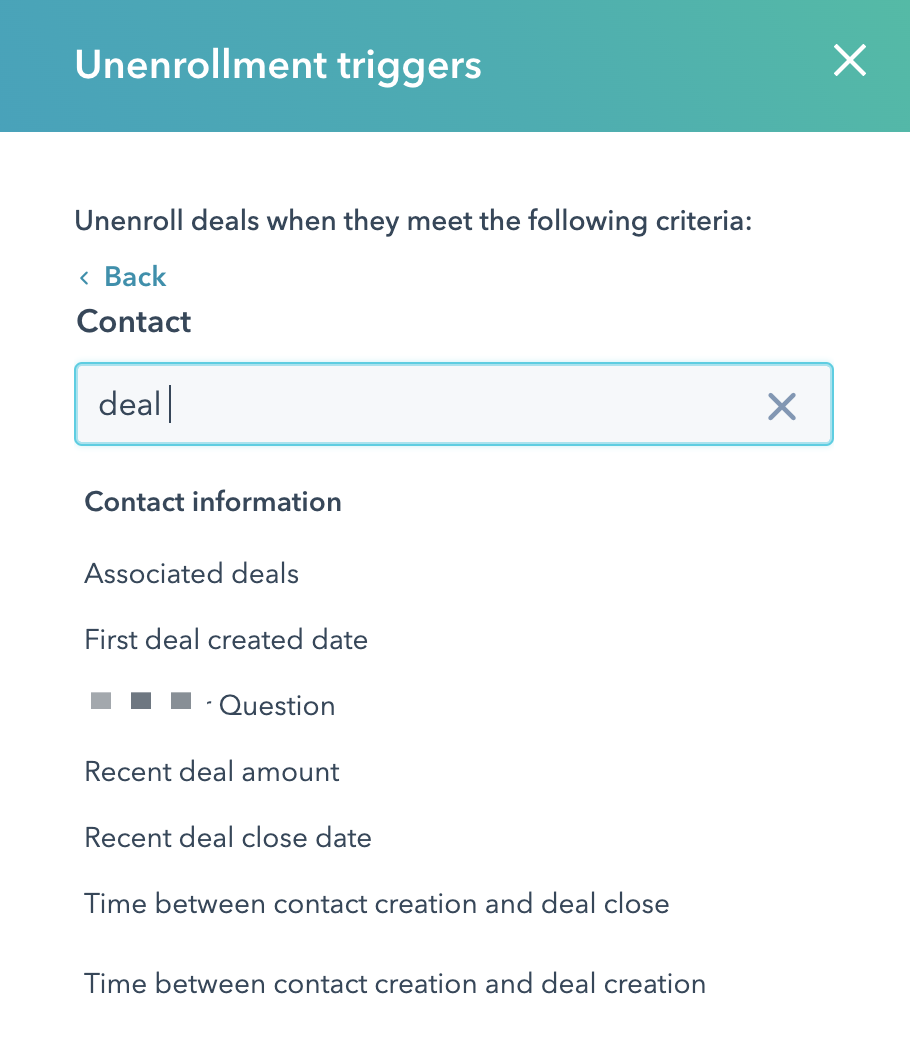 If you have Service Hub you could also check for things such as associated tickets eg: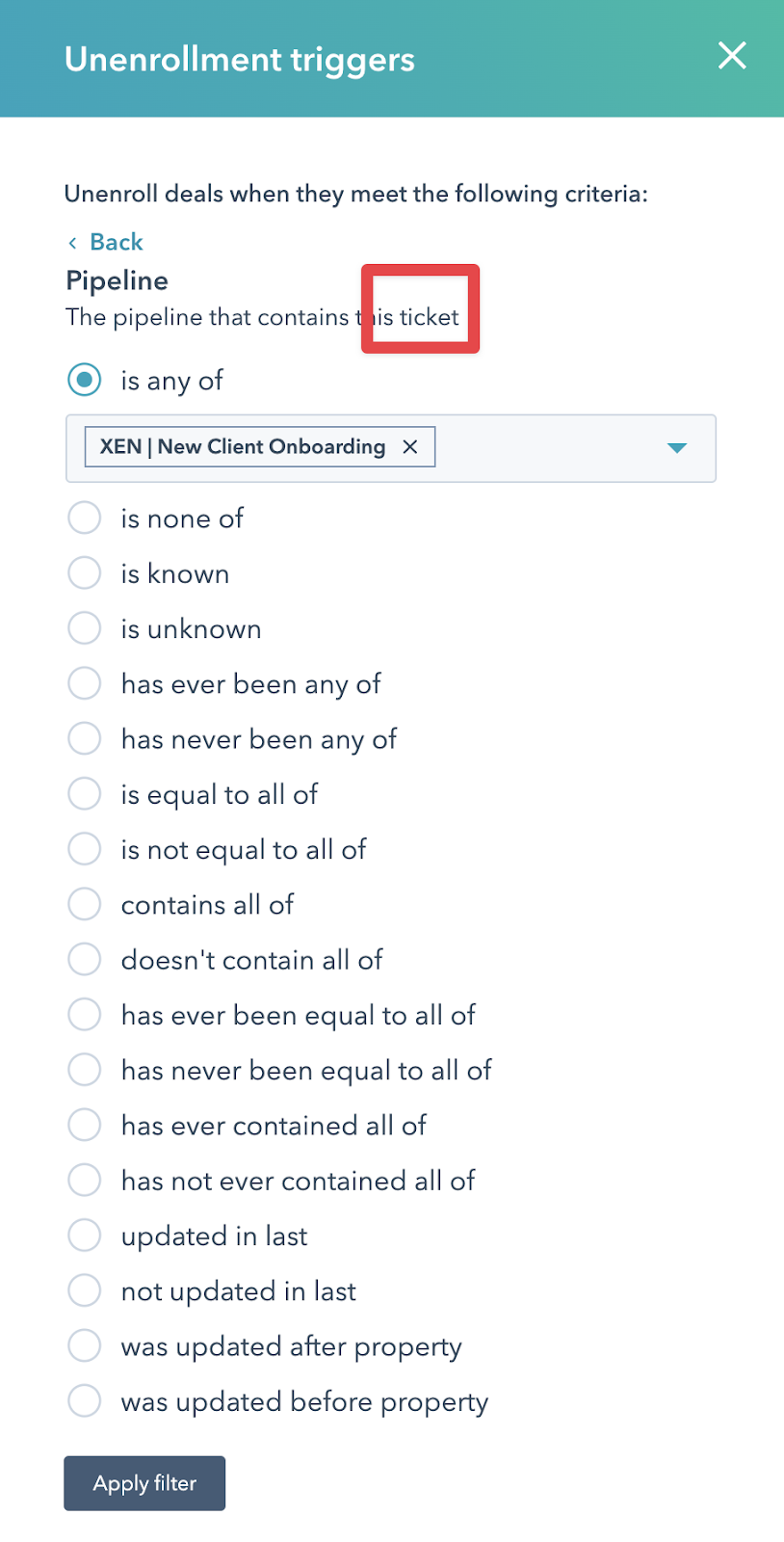 So you could end up with unenrollment criteria like this: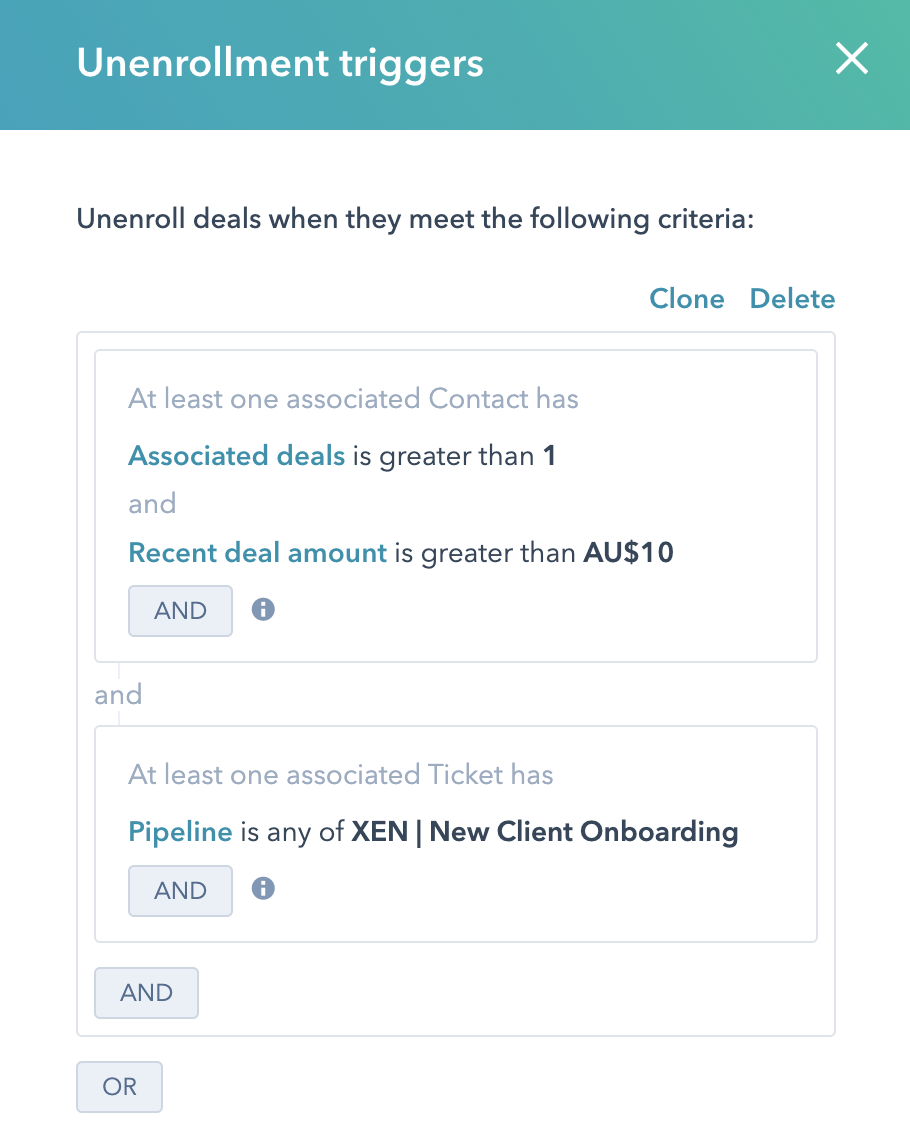 There's a lot of options.
What's the benefit of putting these here and not in the workflow entry criteria? It can often be simpler to keep these things separated (as opposed to adding all of these as a NOT criteria in the entry trigger).
Keep the entry trigger simple, but then cater for all the unenrollment options to drop deals out.
---
💡 Shot 7: Insight of the Week
ROI in life
Craig and I have both been progressively over the last few years been upgrading our equipment to do things quicker and better. We have also tried to keep things similar to near identical to reduce complexity and workflow.
2 Key areas:
Better systems
Better tools (hardware & software)
Things we have upgraded:
Computers, we are currently using the new M1 Macbook Pros
Web cameras, we just upgraded to Lumina, The World's First AI Powered Webcam!
Microphones, we use RØDE microphones
Mobile/Cell phones
Desks -moving to stand up desks
Lighting, we use Elgato lights
Using better systems, like HubSpot templates, sequences, snippets
Loom to communicate with clients and team
More time is the return on investment here!
---
🏈 Shot 8: Gotcha of the Week
More on Attribution and Cookies
Attribution has been a big (and growing) focus for us lately, especially as we see more hurdles from platforms (Eg Apple's iOS changes last year).
Last episode we chatted about the issue with cookie consent popups and Facebook tracking.
This week, another cookie consent issue, this time with Google Analytics and Google Ads.
A client had big differences between the clicks to their site that Google Ads was reporting, and the sessions that Google Analytics was reporting.
In the end it turned out to be because their platform (they are using Wix) had cookie consent popups enabled. When visitors don't accept the banner, Google Analytics is blocked from recording any data. Since this client is Australia based, they simply turned off the cookie consent banner.
As you will see in the Wix documentation about the Pros and Cons of Displaying a Cookie Banner on Your Wix Site it does not mention this at all!
---
📚 Shot 9: Thought of the Week
Risk Management versus Efficiency
The incalculable cost of inefficient risk management by committee.
One of our clients is migrating over from Marketo to HubSpot Enterprise.
As part of the migration, they'll connect HubSpot to their Salesforce instance. Whilst careful review and consideration is of course required, the HubSpot documentation and process is very mature and well maintained. Plus the sync can be set to be one-way initially (eg we just want to sync down Salesforce properties and contacts to HubSpot for now, syncing back can be enabled later).
However, this has been an internal hot potato for almost 3 months now, and the connector still isn't installed. They have now engaged an external Salesforce consulting company to review the request.
Why do I mention this? Simply because in this case, the risk management policy has become extremely inefficient.
The challenge for growing companies is to keep the risk management process in proportion to the outcome. Sure, as your company grows, you need to be more careful with data. But to the point that it hinders company growth (eg not being able to send new leads from the site up to Salesforce means they are losing sales opportunities…)
Key takeaway: are there sales and marketing processes you have currently that could be reviewed now, to ensure they don't impact business efficiency later?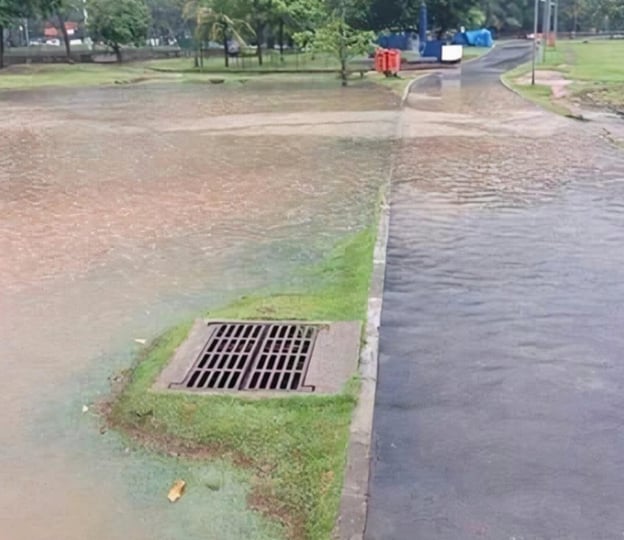 ---
✍️ Shot 10: Quote of the Week
"People ask me if I feel guilty about Ayrton. I do. I was one of the senior officers in a team that designed a car in which a great man was killed. Regardless of whether that steering column caused the accident or not, there is no escaping the fact that it was a bad piece of design that should never have been allowed to get on the car. The system that Patrick and I had in place was inadequate; that cannot be disputed. Our lack of a safety-checking system within the design office was exposed."
― Adrian Newey, How to Build a Car: The Autobiography of the World's Greatest Formula 1 Designer
---
🧲 Shot 11: Follow Us on the Socials
Connect with HubShots here:
Connect with Ian Jacob on LinkedIn and Craig Bailey on LinkedIn
---
HubShots, the podcast for marketing managers and sales professionals who use HubSpot, hosted by Ian Jacob from Search & Be Found and Craig Bailey from XEN Systems and XEN Solar.
HubShots is produced by Christopher Mottram from Podcastily.
Please share this with colleagues - it helps us improve and reach more marketers.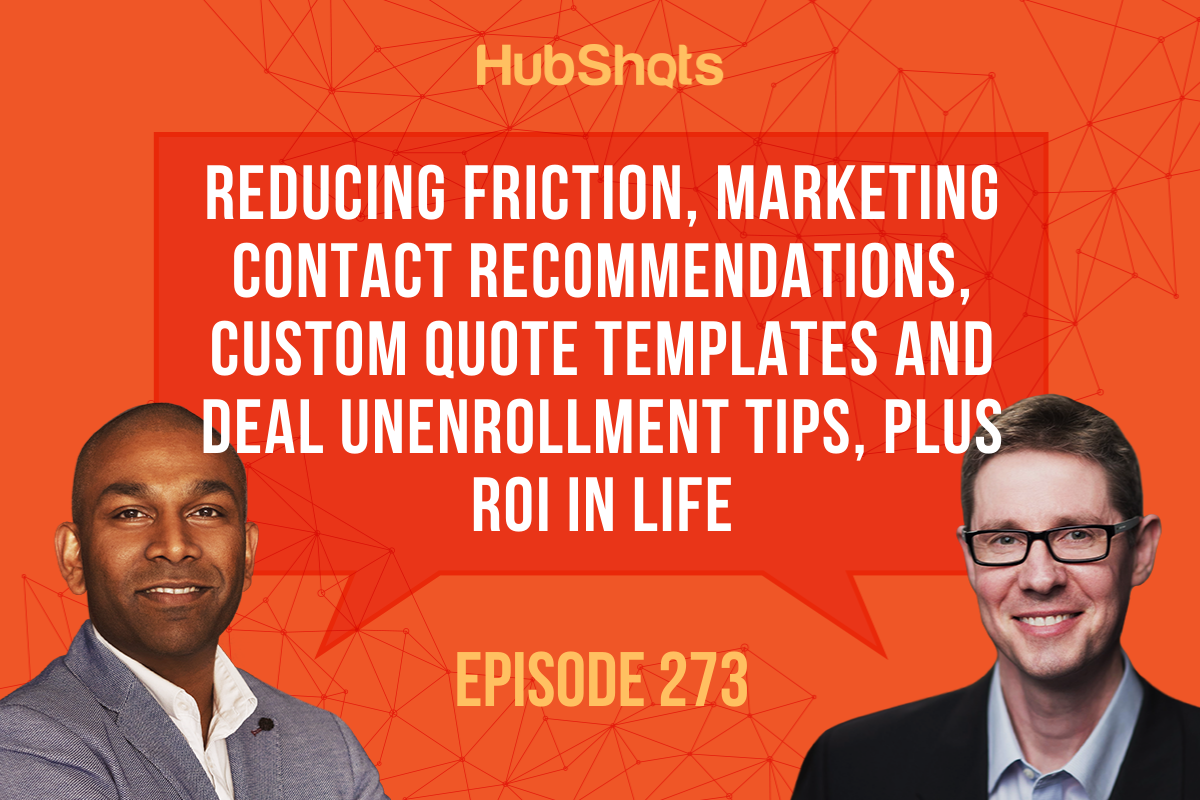 Published: Friday 18 February 2022 | Last updated: Friday 18 February 2022