Anonymous Backs New Encrypted Social Network: Minds
Published: Wednesday 24 June 2015 | Last updated: Tuesday 04 September 2018
A new social media player is on the block that is being backed by hacktivist collective Anonymous. Minds is a fully-functional new social network that promises to protect user privacy by providing end-to-end encryption in private messages. It's being widely marketed by the media as the answer to Facebook (yes again), which has of course long been criticised for its privacy practices.
If this all sounds very familiar to you then that's no surprise. Just a few short months ago new social network Ello hit the headlines as the alternative to Facebook. This is come to nothing really, which again is no surprise as the site offered very little functionality and was quite bare. It has now received more than $11 million in funding and the site has had a major overhaul. Despite this, it's still a work in progress and hasn't come out of beta yet – it also doesn't have much more in the way of functionality, although the interface is undoubtedly slicker than it was.
Minds on the other hand – which is also still in beta – has an interface that's familiar and ready to go. Whilst it has been widely reported that it's backed by Anonymous, this is due to a post on the hactivist's Facebook account which endorses the new social network.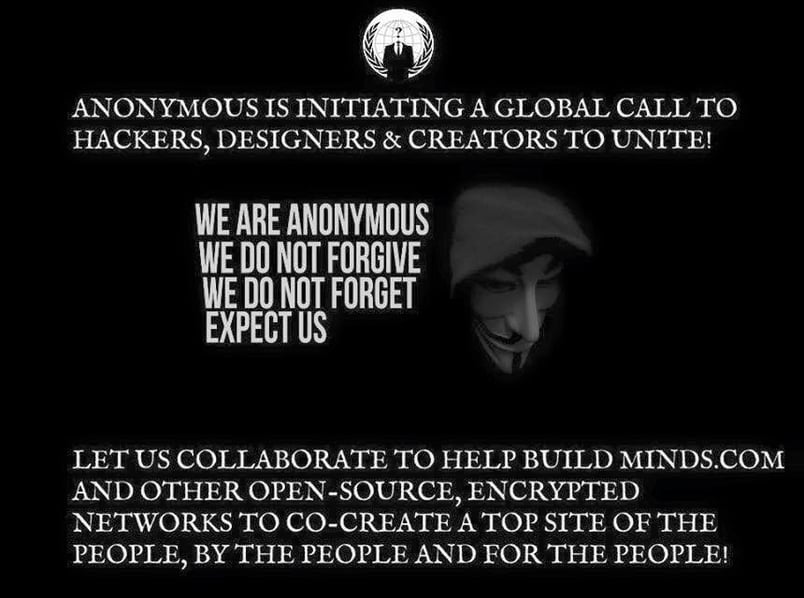 Image source: Anonymous Timeline
Mind is available on desktop and as an app on Play and iTunes. It allows users to add profile and cover images, post status updates and links but it's completely open source.
"Our stance is the users deserve the control of social media in every sense," Minds' founder Bill Ottman told Business Insider.
For marketers, Minds offers an opportunity in that its algorithms are designed to ensure that the more you post, the more reach you get, just like in the early days of Facebook. This allows users to "earn virality" Ottman went on to explain. The developers have been carrying out testing for "a couple of years" and have so far seen 60 million visits.
"For every mobile vote, comment, remind, swipe & upload you earn points which can be exchanged for views on posts of your choice. It's a new web paradigm that gives everyone a voice," the text on the website reads.
Inside Minds
On Minds, your followers are known as 'Channels' and you earn one point for each interaction. You can then use these to boost a post even if it's on your own site. Minds is free to all users but you can also sign up for premium memberships which allow you to use your own domain.
These start at $10 per month and go up to $100, although you can call them to set up a custom account too.
As you can see, subscriptions allow you to use your own domain and have more bandwidth, as well as access different levels of support. It's not quite clear what you're paying for at the signup stage, although Ottman told Business Insider that you can purchase more points.
For brands, Minds could be the answer that they're looking for when it comes to connecting with their audience effectively on social media. Yes, we have Facebook and yes, you can still use its advertising, but Minds gives the opportunity to connect organically, which of course we have seen all but disappear from Facebook.
It's still in beta, so it will be a little while before we know if it's going to be truly useful, but at the moment it's looking pretty good. Will it overtake Facebook? I seriously doubt it in the short term, but in the long term who knows? I wouldn't abandon the world's favourite social network just yet though.
Upload Video
Minds allows you to upload video and images, as well as post blogs. You can even add your sites' RSS feeds to the site and manage them through the RSS Mirror. You can also join groups and store Bitcoins in the Minds Wallet.
On the top bar of the site, your profile image is displayed as the link to your profile, and there are also icons for notifications, Minds Points and messages.
The left hand navigation allows you to upload content, explore users and add RSS feeds and sites.
So there's quite a lot of functionality already within the app, with more to come. I personally would like to see an improved help section as currently, there's very little to explain how 'Nodes' and other features work.
Minds for Brands
Unlike Ello, Minds isn't discounting a large part of its audience by promising that there will be no advertising. In fact, its site copy says,
"We are a free and open-source platform to launch your digital brand, social network and mobile app. We are also a social network ourselves. It is a global social network of social networks."
So for marketers, whilst Minds currently has just 30,000 users, it's worth considering jumping on board early so that you can establish an early presence on the site. If you produce a lot of content, then it's worth doing so on Minds to see what kind of response you get. Do bear in mind that the site is still in its infancy, and has been in and out of beta since 2012, so it looks like there's still a bit of work to do yet.
However, it does look much better than any other alternatives to Facebook that we've seen emerge recently, and I think it's worth giving a shot. If it does take off and you've been an early user, then it's likely that it will present an opportunity to reach a different, more engaged audience in the future.
The only thing that's not fully explained on the site for me is the subscription information. It just doesn't really tell you what you're getting for your money, so for that reason I'll be holding off experimenting with the paid subscriptions until this is clearer.
Published: Wednesday 24 June 2015 | Last updated: Tuesday 04 September 2018