How to Use Spotify Ad Studio to Reach Your Audience
By Kylie Browne
Published: Wednesday 08 August 2018 | Last updated: Friday 19 July 2019
XEN was lucky to be part of the six months testing phase of Spotify's new self-serve advertising platform, Ad Studio, which was officially launched in Australia early August 2018.
Ad Studio allows advertisers to create an audio ad, select a target audience, specify a budget and track the results.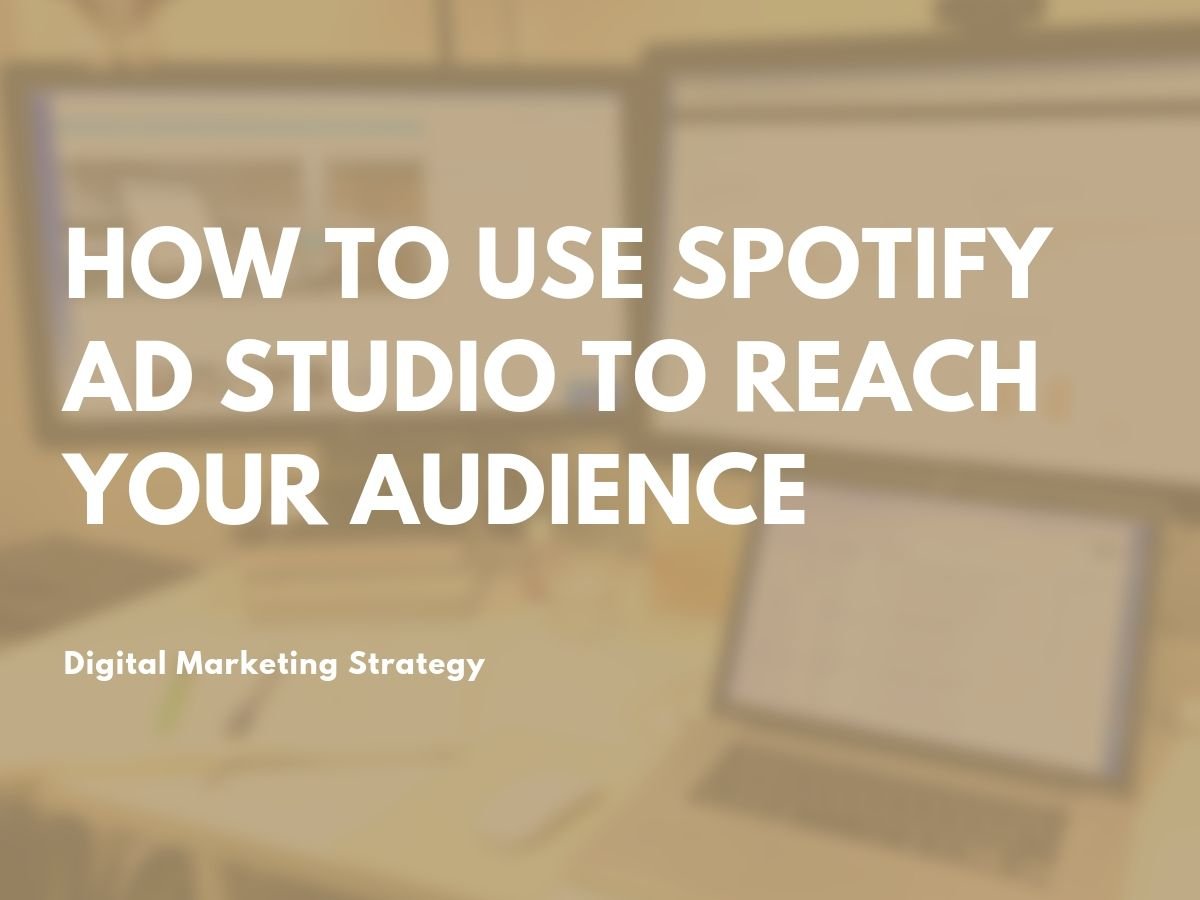 With Spotify being the biggest subscription streaming platform, having 170 million active users at the end of March - it's a platform worth testing. Especially at an entry level of $250 per campaign. More on that later!
As early adopters, we used this testing period on a number of audio campaigns for our client, a multinational electronics company, promoting their gaming monitors to a specific gaming audience.
We're going to take you through our campaign set up so you can see exactly what Ad Studio offers and whether it's right for you.
How to Use Spotify Ad Studio to Reach Your Audience
1. Dashboard
Once you have set up your account, this is what the dashboard looks like.

Functionality is pretty basic at this point in time. These are the daily metrics shown on the dashboard:
Ad Name
Status
Cost Type
Listens
Listen Rate
Reach Of Listens
Avg Freq Of Listens
Ads Served
Reach
Avg Freq Of Ads Served
Clicks
CTR
Amount Spent
Budget
Start Date
End Date
There are three shortcut functions on the Dashboard that allow you to:
Edit
Download audio, or
Stop the campaign.
You can also access your Account Settings easily from the Dashboard.
2. Create An Ad
From your dashboard, click Create Ad to get started.
You'll see this: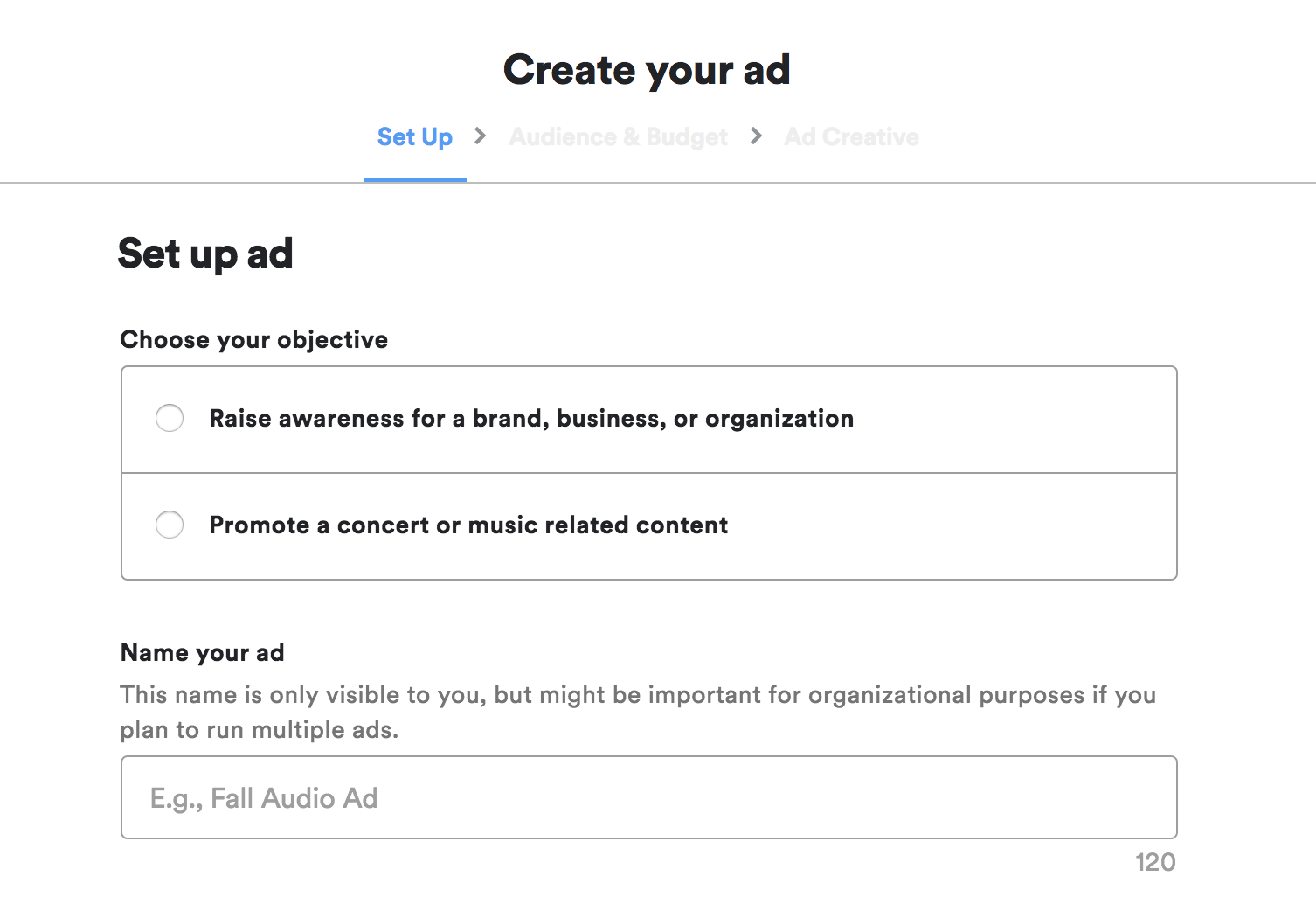 It's time to start creating your ad. Here are the steps.
i. Choose your objective
Raise awareness for your brand, business or organisation
Promote a concert or music related content
ii. Name your ad
Here I recommend that you start with a logical naming convention that suits your business but one that's easily identifiable in short form.
You can see in the screenshot below that the full name doesn't appear until you click through, so make it easy for yourself to choose the right campaign - especially important when running multiple campaigns at once.
Tip: I like to start with the Brand/Month/Year as a general guide.
Once you've named your ad, click Next.
iii. Select Audience and Budget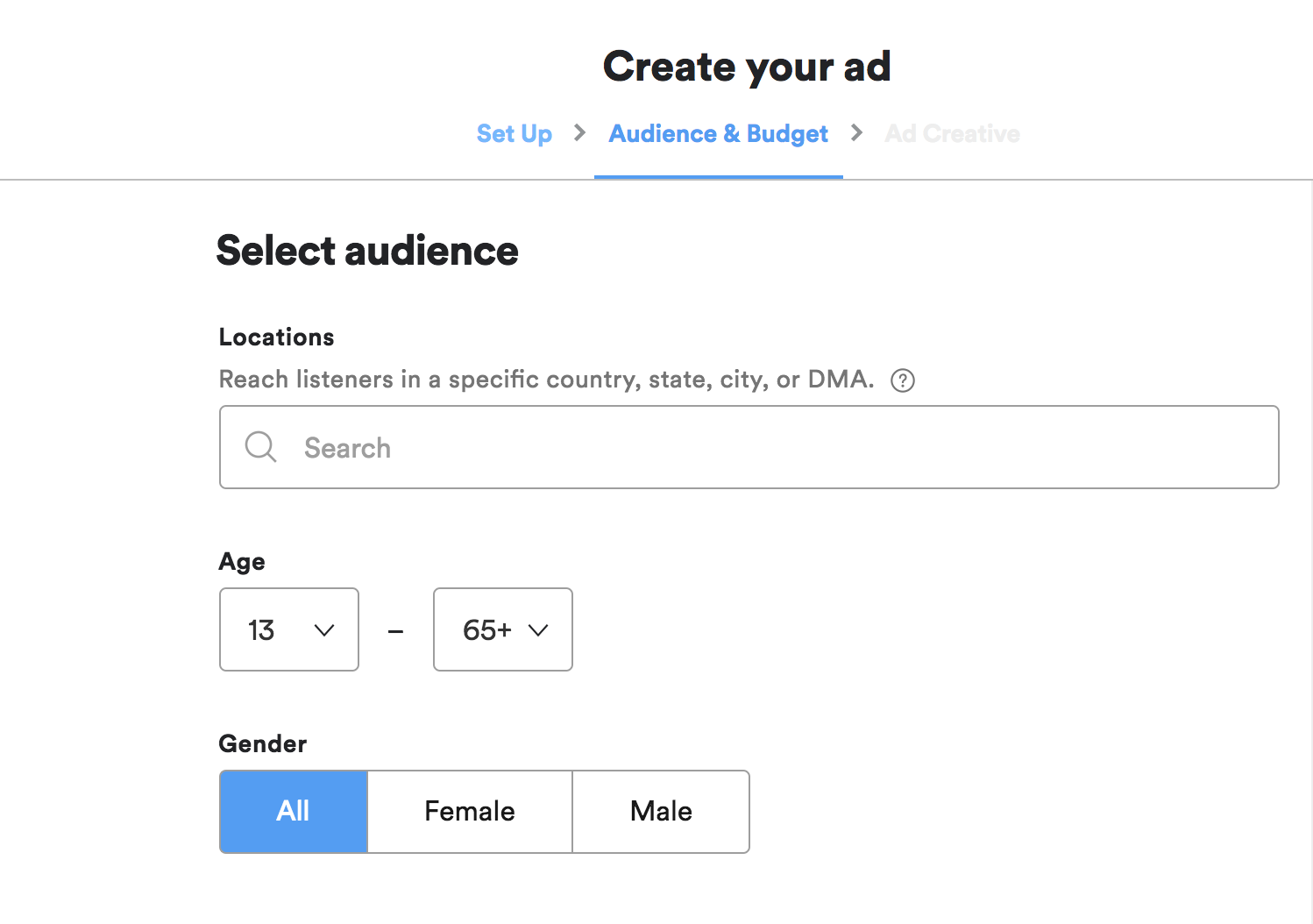 Here you can specify:
Location - target listeners in a specific country, state, city or DMA
Age - options between 13-65+ years
Gender - options available
Tip: We liked the feature as it allowed us to split test ads based on gender, with minor edits to ad copy.
Scroll down below the fold and you'll see Target Based On Listening Behaviour.
This is where it gets interesting.
iv. Target Based On Listening Behaviour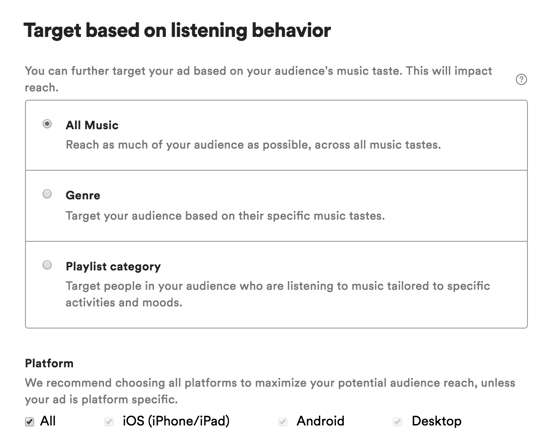 v. Audience Music Taste Options
All Music - No specific targeting. Reach as much of your audience as possible, across all music tastes.
Genre - Target your audience based on their specific music tastes, such as:
Alternative
Blues
Children
Christian
Classical
Country
Easy Listening
EDM
Electronica
Folk
Funk
Hip Hop
Holiday
House
Indie Rock
Jazz
Latin
Metal
New Age
Pop
Punk
Reggae
RnB
Rock
Soundtrack
Spoken And Audio
Traditional
Playlist category - Target people in your audience who are listening to music tailored to specific activities and moods, such as:
Chill
Cooking
Dinner
Focus
Gaming
Holidays
Kids
Party
Travel
Workout
Platform - Spotify recommend choosing all platforms to maximise your potential audience reach, unless your ad is platform specific.
Your options are:
All
iOS (iPhone/iPad)
Android
Desktop
Tip:
On a limited budget: If you already know what device your audience converts well on, based on other paid social channels, then be specific in choosing your platform option.
On a reasonable budget: Test various platforms on the Spotify channel to see if they align with your other paid social conversion activity.
3. Set Budget & Schedule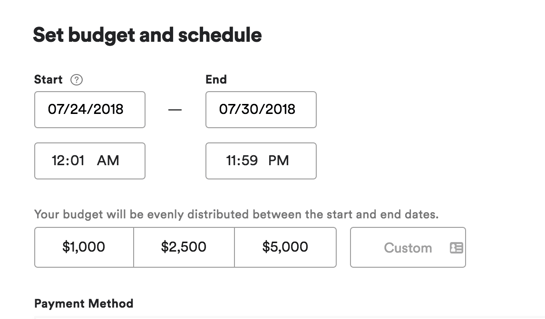 Setting the budget and schedule is straightforward.There are budget options shown as a guide, and the custom box allows variances with a starting minimum of $250.
For scheduling, simply select your start and end dates. Note, it can take up to 48 hours to approve the ad in some cases.
Tip: when we first started testing we nominated the minimum spend of $250 to see how the platform worked and what we could achieve from the investment. Once we saw the first months results we increased the spend.
4. Payment Method
Add your credit card details here.
Your credit card is charged at the completion of the campaign. If you have stopped the campaign prior to the end date then you will be charged before the end date nominated.
Tip: We found the billing to take place about a week after the campaign finishes. Similarly, in the case where we have stopped a campaign mid-way and started a new one, the billing came through about a week later.
5. Summary of Order
As you start to build your campaign, you'll notice on the right hand side that a summary box appears. It looks like this: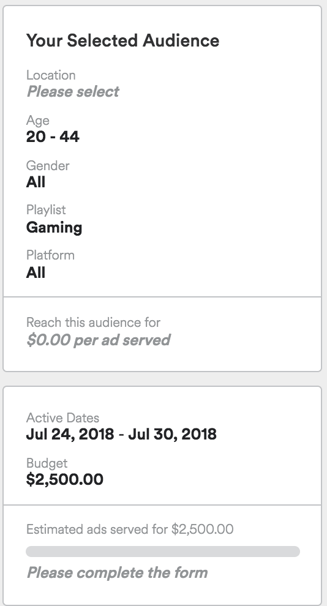 You'll notice at the bottom that they offer a forecast impression estimate - based on your target audience.
When you're done here, click Next.
6. Audio Creative
There are two ways to add audio to your campaign
Upload your own - Only MP3, OGG or WAV formats, 30 seconds or shorter, are supported.
Request a voiceover - you write a script and Spotify records it for you (for free, it's part of the service).
How to Request a Voiceover
Name your voiceover title.
Tip: to keep things streamlined, I used the name of the campaign.
Write your script using 75 words or less - so that it fits into a 30-second audio file. The script field (seen in red below) has a counter so you will know how many characters you need.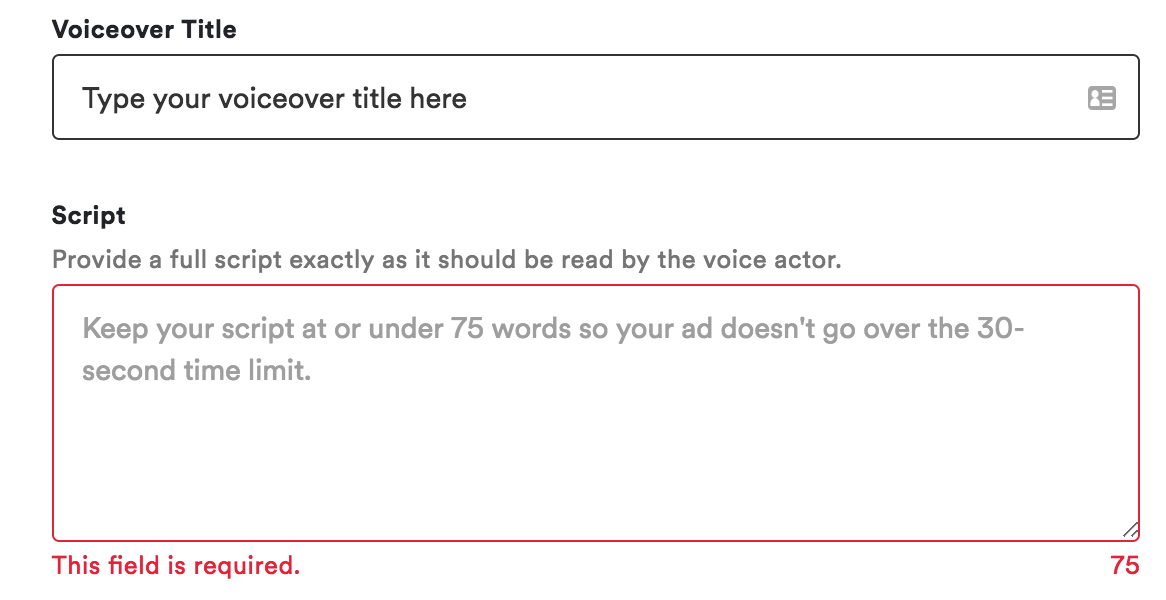 You can also leave Instructions for the Voiceover. For example, any pronunciation tips, words you would like emphasis on, or the speed/tone of the voiceover.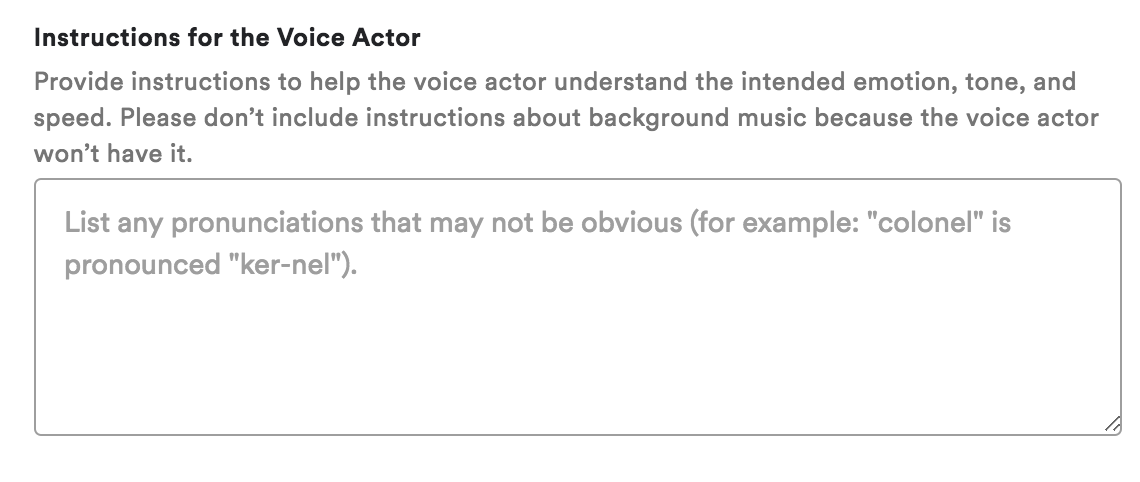 7. Language Options
The following language options are available:
English - Australia
English - England
English - North America
French - Canada
French - Europe
Spanish - Latin American Neutral
Spanish - Mexico
8. Voice Profile Options
Male | Child
Male | Teenage
Male | Young Adult
Male | Middle Aged
Male | Senior
Female | Child
Female | Teenage
Female | Young Adult
Female | Middle Aged
Female | Senior
9. Background Track
You don't have to have background music, but if you would like music to accompany the voiceover, there is a library of free audio tracks to choose from.
Tip: I found the music selection to be quite limited. However given the service only fully launched last week, no doubt there are plans to expand the library. I also found that the music is played from the start of the song - even if I selected the music to start 25 seconds in.
Currently you can choose from these music options:
Active Electronic Beat
Atmospheric Guitars
Bright Dance Vocal
Cheerful Acoustic Twang
Chill Ambient Groove
Cinematic Surf Rock
Corporate Synth Echos
Dreamy Reverb Haze
Emotional Piano
Energetic Pop Drive
Grimey Breakbeat
Heartfelt Acoustic Groove
Heavy Metal
Industrial Synth Beat
Inspirational Rock
Modern Vocal Hook
Nostalgic Atmospheric Piano
Playful Ukulele Fling
Positive Folk Tune
Punk Rock
Soul Beats
Southern Blues Jam
10. Display Creative
Here you get to an a Companion Image that displays on screen while your ad is playing.
You can upload a JPG or PNG file, 640x640 pixels.
You're nearly there!
Ad Headline is next. This appears above your companion image so it needs to be short, punchy and relevant to your brand and UX.
Lastly, there's a the Companion Link. This is where listeners will visit when they click on the Companion Image.
Tip: Don't forget to add a UTM parameter to your companion link so you can track conversions in Google Analytics.
Once you have got this far, click Next and you'll go to a summary page.
11. Submit Campaign For Approval
Review your order and submit for approval. You'll see this: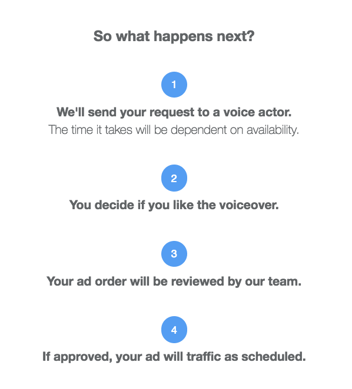 Other Observations & Findings
In the BETA testing period whenever we rejected the Audio we had to start a new campaign. I don't know if this functionality has changed now in the full launch. I'll update this when I know more.
During the testing period I was in contact with a Spotify Account Manager. They were very responsive to any questions.
Spotify Support
Spotify Ad Studio wants you to build a great ad and outline tips for making great audio ads here.
What Were Our Results?
Gaming Monitors Campaign - Results From Early Testing

These metrics have now been expanded but this is an example of the early testing stage.
While I was expecting a better CTR, the Spotify account manager said the following:
That's a fairly strong result.
The benchmark for CTRs outside of music related verticals typically sit between 0.4-0.7%. So I'd say this campaign is showing positive return so far.
Also, it's worth noting that audio is generally considered a branding initiative, and in terms of a north star measure of success, looking at the unique reach and frequency gives a far better indication of the sort of new audiences you're driving the brand across.
Will We Continue To Advertise on Spotify?
Given it's a new platform, we will continue to spend some of the budget on this platform.
The targeting audience options and the targeting playlist options will help us decide whether to consider this platform on other clients campaigns. If budget is limited and audience targets don't match Spotify's current offering, then probably not. However if there's enough budget for testing, we're always keen to test new platforms, you never know where you'll find an unexpected audience.
It will be interesting to see how the service evolves now that it has fully launched, I'm expecting more advertisers to push functionality requests and help Spotify facilitate better results.
Still Deciding if Spotify Ad Studio is Worth it For You?
If you're still wondering if Spotify Ad Studio is worth investing in, we'll leave you with these questions to consider.
✓ Do people search online for your business or product?
✓ Do you have a good offer / differentiator that will entice people to click your ad while they're enjoying their music stream?
✓ Do you have scalable budget that can grow as your results prove successful?
Need Help With Spotify Ad Studio?
We understand that not everyone is comfortable delving into new platforms. If you're looking for help with Spotify Ad Studio, we can set up and manage your campaigns for you.
Contact us for more information & pricing.
Published: Wednesday 08 August 2018 | Last updated: Friday 19 July 2019